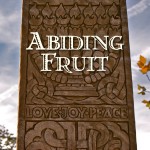 It all starts with a seed. The gospel message, planted in the hearts of His people.
From a tender shoot to a strong trunk, the faithful Gardener nurtures this precious seedling. He has a great plan for this seed in us; to grow, strengthen, and bear fruit.
For those of us who have received this good news, we have been given an incredible treasure. While the gospel-seed brings joy inexpressible and life eternal, it is not mainly for those who receive it.
The Spirit of the Lord GOD is upon me, because the LORD has anointed me to bring good news…that they may be called oaks of righteousness, the planting of the LORD, that he may be glorified. Isaiah 61:1,3
All for His Glory
God's ultimate plan for you and I is not just to receive, through faith, this seed of the gospel. He intends for this seed to grow into a strong, fruit-bearing, God-glorifying tree.
He is like a tree planted by streams of water that yields its fruit in its season, and its leaf does not wither. In all that he does, he prospers. Psalm 1:3

By this my Father is glorified, that you bear much fruit and so prove to be my disciples. John 15:8
As we grow into a firmly-planted tree, fruit will come and this fruit will bring more seeds. Gospel-seeds will be planted into more hearts and these delivered disciples will bring glory to God.
Facing Reality
I don't know about you, but there are days when I don't feel like a strong, flourishing tree. Seasons come and the fruit on my branches is small and tasteless. There are plenty of moments where there is little proof of discipleship in my life.
God's plan for me is to bear fruit, and I want to bear good fruit. But I can't just resolve to be more fruitful and force the fruit to come. I've tried that; it doesn't work.
So, every healthy tree bears good fruit, but the diseased tree bears bad fruit. Matthew 7:17
I cannot bear good fruit on my own. I am diseased and, on my own, powerless to bear good fruit. Yet, God has charged us to bear good fruit. So, there must be a way!
The Secret to Bearing Fruit
Today we kick off our Abiding Fruit study series. This week, the study guide will lead us to take a deeper look at how we can bear the fruit of the Spirit. As we look at the different layers of Galatians 5:16-25 each day, let's see if we can find the secret to becoming a healthy, fruitful tree.
…I chose you and appointed you that you should go and bear fruit and that your fruit should abide… John 15:16
What are you looking forward to in our study this week?
How is your fruit-bearing lately?
Come back next Monday, when we will take a deeper look at Galatians 5:16-25 together.
Subscribe to Do Not Depart to have post delivered to your inbox.