Don't we all long for wisdom? Every day we're faced with choices that need wise responses. I recently read an article that stated the average person makes about 35,000 decisions a day. Thirty-five thousand! Of course, some of those decisions (like what socks to wear) don't necessitate much thought or discernment. But plenty do, like: What do I say in this situation? What should I do? What's the better choice? Friends, we need wisdom! Thankfully, God has given us an instruction book. It's His Word. And the Book of Proverbs is a great place to begin when we're seeking wisdom.
Book of Proverbs Background
Though the Proverbs were written primarily by Solomon to both his descendants and other men of Israel, they are for everyone who seeks wisdom for daily living. (That's us!) For the myriad of choices we face each day, the Book of Proverbs offers wisdom. It also offers us assurance of the life to come. (A beautiful combination!) Written shy of a thousand years before Christ lived, these wise words point to living as He instructed and to the eternal reward He promised for being God's child.
Theologian Charles Ryrie explains that a proverb is a comparison and mini-parable. He also says, "…these proverbs are not so much popular sayings as they are a distillation of wisdom from those who knew the law of God."

Are you ready for a distillation of wisdom?
Wisdom for 2018
Like you, I'm no stranger to the fact that ancient words can apply to us today. But still, it blows my mind that wisdom for the new year can be drawn from a book written roughly 3000 years ago. As I'm filling in my planner, checking my phone calendar, and watching YouTube videos about New Year's goals, I'm also digging into Solomon's words from so, so long ago. It's crazy, isn't it? But that's God's Word. Always relevant. Always applicable.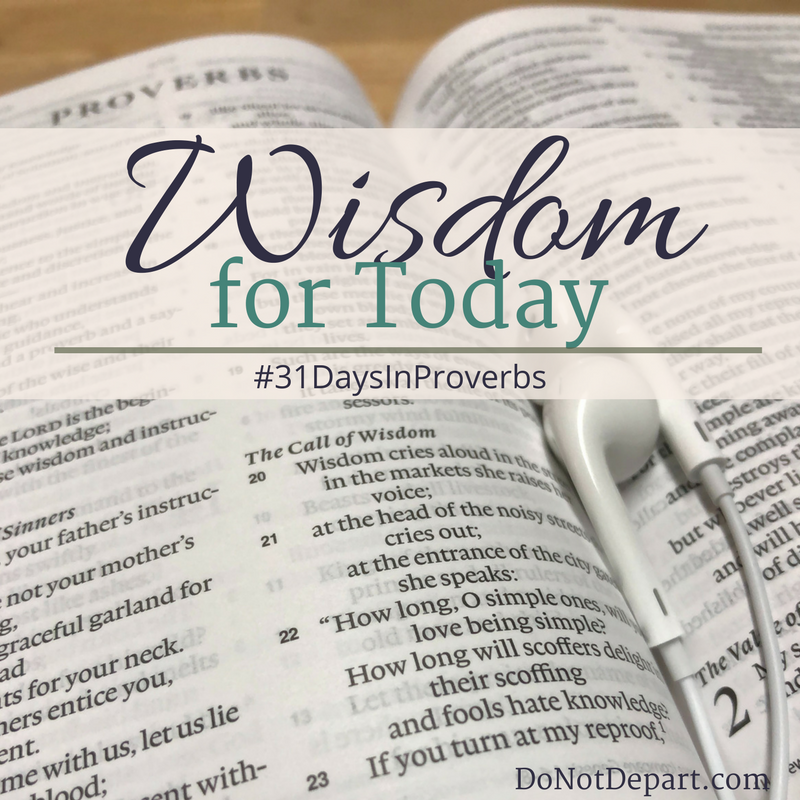 I stumbled upon this from Chuck Swindolll and thought you might like it as much as I did:
Proverbs accomplishes something no other biblical book does: it simply compiles numerous short instructions for living an effective life on earth. While other books articulate profound theological truths, lengthy narratives of triumph and failure, or prophetic preaching to a disobedient people, Proverbs concerns itself completely with instructing people in the path of wisdom. The writers of the book recognized the varied circumstances of a person's life and provided principles to apply in a variety of situations rather than instructions to follow in only a few specific instances. (Emphasis, mine.)
By inspiration of the Holy Spirit, the writers of Proverbs recognized the circumstances of a person's life and provided principles for us to follow. It gives us short instructions for living an effective life. Even today. In 2018. I think that's miraculous!
Proverbs Chapters One and Two
So what's in these first two chapters? If you read Chapter One yesterday for the 31 Day Challenge, you know that the beginning lists out reasons why this book was put together.
To know wisdom (v1)

To receive instruction (v2)

To give prudence (v3)

To increase the learning of the the wise (v5)

To better understand the words of the wise (v6)
Chapter One goes on to instruct us how to avoid being enticed by sin and then tells us to heed the advice of wisdom.  In this section, wisdom is personified as a woman calling out to everyone to come listen, though few do.

Interestingly, today's reading (Chapter Two), is titled in some Bibles "Avoid the Adultress" and in others, "The Value of Wisdom." While three verses (16 through 19) do give instruction on avoiding the adultress that lures men to sin, the remainder of the the chapter highlights the value and source of wisdom.
For the Lord gives wisdom; from his mouth come knowledge and understanding.  –Proverbs 2:6  

Then you will understand righteousness and justice and equity, every good path.  –Proverbs 2:9
Seeking and Finding Wisdom
So what is it in these first two chapters that stands out to you? For me, it's wisdom personified and Solomon's words in the beginning of Chapter Two. I want to answer the call and be one who comes to the Lord for wisdom. God calls to us, invites us, and promises that if we seek wisdom through Him and through His Word, we will find it. And like we know from our DoNotDepart theme verse, it's by thinking (meditating) on God's wisdom (expressed in His Word) that we can begin to act on it, and then we are promised success.

This Book of the Law shall not depart from your mouth, but you shall meditate on it day and night, so that you may be careful to do according to all that is written in it. For then you will make your way prosperous, and then you will have good success. — Joshua 1:8

What a promise to start the New Year with!
Please share in the comments what stands out to you in these chapters, or join the discussion in our FB community.

Blessings!
Ali