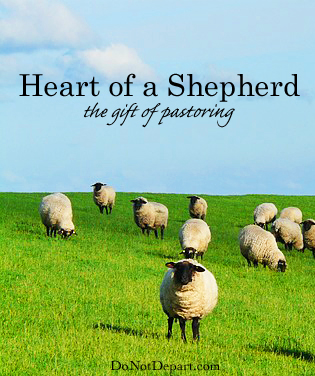 The gift of pastoring, like all spiritual gifts, is given for the purpose of blessing and growing fellow believers. While this may not be a "flashy" spiritual gift, a pastor is absolutely essential to the health and growth of the body of Christ.
Poimenas Means "Shepherds"
In most versions of the bible, the Greek word poimenas (ποιμένας) in Ephesians 4:11 is translated as "pastors." But the ESV more accurately translates poimenas as "shepherds."
And he gave the apostles, the prophets, the evangelists, the shepherds and teachers, to equip the saints for the work of ministry, for building up the body of Christ, until we all attain to the unity of the faith and of the knowledge of the Son of God, to mature manhood, to the measure of the stature of the fullness of Christ  Ephesians 4:11-13
Poimenas is found throughout the New Testament to refer to actual shepherds, including those who visited the infant Jesus. The work of a shepherd – a herder of sheep – is an apt metaphor for the work to which a pastor is called!
A Shepherd's Job
Shepherds have many responsibilities as they tend their sheep.
A shepherd feeds – Sheep need to eat and drink well to thrive. A pastor is responsible for feeding his sheep with the Word of God.
How sweet are your words to my taste, sweeter than honey to my mouth! – Psalm 119:103

And he humbled you and let you hunger and fed you with manna, which you did not know, nor did your fathers know, that he might make you know that man does not live by bread alone, but man lives by every word that comes from the mouth of the LORD.  Deuteronomy 8:3
A shepherd guides – A good pastor will guide his people toward spiritual safety and places of rest, just like a shepherd guides his sheep to safe pasture.
The Lord is my shepherd; I shall not want. He makes me lie down in green pastures. He leads me beside still waters. He restores my soul. He leads me in paths of righteousness for his name's sake.  Psalm 23:1-3
A shepherd comforts – When trials arise, pastors bless their flock by bringing comfort through God's Word and through prayer.
Blessed be the God and Father of our Lord Jesus Christ, the Father of mercies and God of all comfort, who comforts us in all our affliction, so that we may be able to comfort those who are in any affliction, with the comfort with which we ourselves are comforted by God.  2 Corinthians 1: 3-4

Even though I walk through the valley of the shadow of death, I will fear no evil, for you are with me; your rod and your staff, they comfort me. Psalm 23:4
A shepherd protects – Always keeping watch, a loving pastor will be attentive to encroaching spiritual danger and will warn his flock.
But David said to Saul, "Your servant used to keep sheep for his father. And when there came a lion, or a bear, and took a lamb from the flock, I went after him and struck him and delivered it out of his mouth. And if he arose against me, I caught him by his beard and struck him and killed him."  1 Samuel 17:34-35
A shepherd seeks the lost – When one of the flock is missing, a caring pastor will be aware and will take the time to seek him out.
What do you think? If a man has a hundred sheep, and one of them has gone astray, does he not leave the ninety-nine on the mountains and go in search of the one that went astray? And if he finds it, truly, I say to you, he rejoices over it more than over the ninety-nine that never went astray. So it is not the will of my Father who is in heaven that one of these little ones should perish.  Matthew 18:12-14
A shepherd is employed by the sheep's owner – A shepherd is accountable to the sheep's owner, for whom he works. Likewise all those who pastor are ultimately accountable to God Himself.
For I have come down from heaven, not to do my own will but the will of him who sent me. John 6:38
The Good Shepherd is the Very Best Model
 I am the good shepherd. I know my own and my own know me, just as the Father knows me and I know the Father; and I lay down my life for the sheep.  John 10:14-15
Jesus Himself is our Good Shepherd. In John 10:14-5 we discover two more important aspects to shepherding:
A shepherd knows and is known to the flock – A pastor spends time with those to whom he ministers. Relationships grow, experiences are shared together.
A shepherd makes sacrifices – All believers are called to lay down our selfish desires for the good of those whom we serve, and those pastoring must be willing to be servant leaders.
shepherd the flock of God that is among you, exercising oversight, not under compulsion, but willingly, as God would have you; not for shameful gain, but eagerly; not domineering over those in your charge, but being examples to the flock.  1 Peter 5:2-3
It is upon Jesus, our Good Shepherd, that pastors are to model their lives and ministry.
Indeed, while not everyone is called to shepherd a body of believers, most of us do have people for whom we are responsible. The Good Shepherd is the perfect model of godly leadership as any believer guides employees, students, children, or anyone under their care.
Many of us have a beloved pastor who has shepherded our spiritual journey for a season. Who has been influential in your journey of faith? Please share in the comments.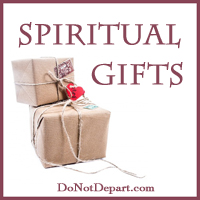 Tweetables:
8 ways a pastor's job is like a shepherd's. http://wp.me/p1Su7F-2Xc #SpiritualGifts via @DoNotDepart and @becomingjoyful tweet this
Heart of a Shepherd – the gift of pastoring. http://wp.me/p1Su7F-2Xc #SpiritualGifts via @DoNotDepart and @becomingjoyful tweet this
The Good Shepherd is the perfect model of godly leadership http://wp.me/p1Su7F-2Xc #SpiritualGifts @DoNotDepart @becomingjoyful tweet this