Last month, we spent the month marveling at how God's creation reminds us of different aspects of Him and our faith.
Let's keep those observations and truths in mind as we study Psalm 19 this month!
When you think of God's beautiful world, Psalm 19:1 might quickly come to mind:
"The heavens declare the glory of God, and the sky above proclaims his handiwork."
All of God's creation — roaring waves at a beach, birds building a nest, rolling hills of millennia-old mountains, leaves dancing in the wind, flowers opening to life-producing sunshine, brilliant shades at sunset — reminds us of Him and proclaims His glory and His handiwork just by existing.
Spending time in His creation can renew our spirits.
As can spending time in His perfect word.
Psalm 19 is an ode to God's beautiful world and His perfect Word. And we want to read about it, revel in it, and praise Him for it together this month.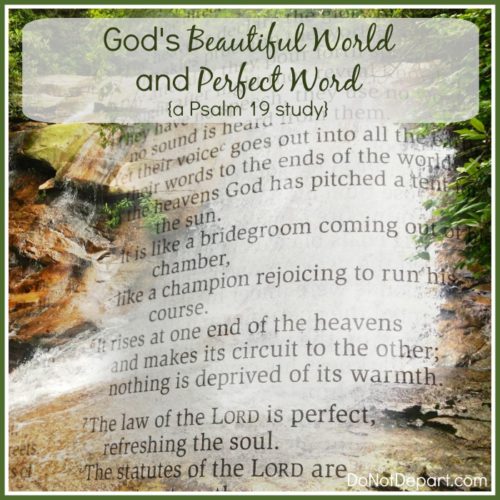 Bible Study This Week
Read Psalm 19 once each day, if you can, to let the words sink in to your mind and heart.
Record two ways God's creation and His Word revive your soul and let your heart rejoice (Psalm 19:7-8).
Stay tuned for the first post on Thursday!
What is one way you can praise Him for His creation and/or His Word today? Share in the comments below!