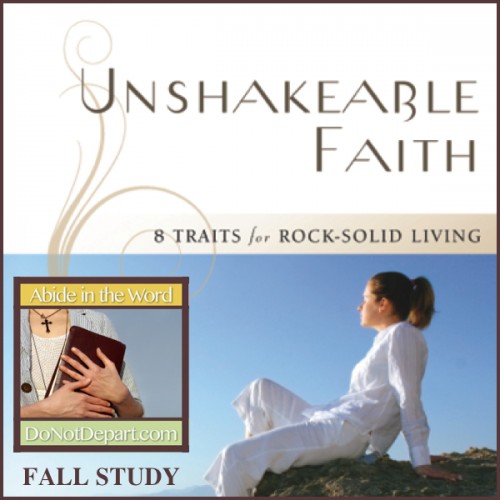 This post is the Devotional version of the study intro. You can also access the Quick Study (2 page version) of today's lesson in a PDF.  If you want to do the Full Study you can purchase the book on Amazon or CBD.
When I was in high school, a social slight felt like the end of the world. Now I know that rejection can be much more serious and hurtful than not getting asked to the senior prom. A departure of a spouse, a job layoff, or a broken friendship can make us feel unloved and discarded.
No matter how much rejection you may have faced in your life, never forget that God will never reject you. In fact, if you are a Christian – if you have entered into a saving relationship with Jesus Christ – it's because God chose you! (Here's more about how to have a saving relationship with Jesus.) Have you ever taken a moment to dwell on the incredible truth that God chose you?
Unshakeable Faith Trait One:

He Picked Me! – Secure in the God Who Loves and Chooses
Read Ephesians 1:4-5 from the New Living Translation below and note the words that describe God's action on your behalf.
Even before he made the world, God loved us and chose us in Christ to be holy and without fault in his eyes. God decided in advance to adopt us into his own family by bringing us to himself through Jesus Christ. This is what he wanted to do, and it gave him great pleasure.       Ephesians 1:4-5, NLT
How did God feel about doing this for you? How does it feel to be chosen by God for salvation and adopted into His family?
Believer, God chose you before the creation of the world. He picked you out for His very own, before you were even born. He saved you for a purpose: "to be holy and without fault (Eph 1:4)." You were chosen by God, saved by the blood of Jesus, and now the Holy Spirit is working in your life to transform into Christ's holy likeness. God wants to grow your faith from shaky to unshakeable!
Let's talk: What situation are you facing right now in which you need to remember that God loves you and has chosen you?