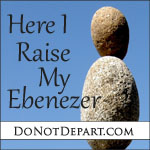 We have been sharing stories of God's faithfulness this month… in the big and little events of our lives… in joy and suffering.
I hope you've had a chance to read some of the amazing stories that have been weaving a tapestry of His goodness here at Do Not Depart.
And now, friend, it is your turn!
Won't you share a story of how God has moved in your life? Raise your Ebenezer, your stone of help, and commend His works to us!