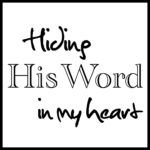 Have you been memorizing scripture in 2013? We'd love to hear what verses you are hiding in your heart!
Many of us are learning Psalm 71 together. It's never too late to join in if you're interested.
Suggested blog topics:
The verses I'm learning
What helps me stay on track
Why memorizing verses helps me
Please link a post from your own blog and/or share in the comments about your memory verses.