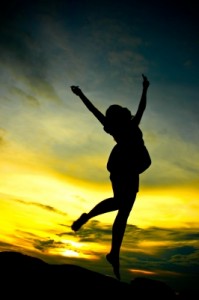 A Story of Blessing
The texted words on my phone burst out in blessing:  "God is so awesome! Words can't express the thankfulness I have. I pray that God blessed you as much as you've blessed me and my girls!"
I had just left a small one bedroom apartment after dropping off a brand new set of pots and pans, bags of food, a mixer and can opener, new sets of towels, and much, much more. They weren't from me, but I delivered them from the open hands and hearts of the team of ladies who serve with me at the women's shelter. One of "our girls" was moving out on her own, preparing for permanent reunion and restoration with her daughters. God allowed us to join Him in the work of piecing a life back together, and the heart of our loved one was full of blessing for the love her Heavenly Father showed her.
A Psalm of Blessing
Psalm 103 begins with the call for each soul in the community of the beloved to remember the benefits of God's love and to cry out in praise. The audience included those who knew well the journey of the broken, how it feels to rise out of exile and survive at the mercy of a generous, divine hand. A list of the benefits (vv. 3-19) fed the amazement of those whose lives were pieced together with provision from the true God. He forgives, heals, redeems, crowns, satisfies, and cares for oppressed; He who knows and loves the helpless is slow to anger, full of grace and mercy. He lavishes love on those who have nothing to offer Him but praise.
A Love for the Broken
While we are weak and frail like the grass or flower (vv. 14-16), so undependable that we are compared to dust. But the Lord loves with steadfast love that remains committed and true (vv. 17-18). To the once exiled and presently broken, He extends love everlasting, calling us to keep his covenant and remember His ways. When we feel alone, His love can only be compared to the distance of the east to the west, the distance from earth to heaven, and the scope of a father's love for his childrevv. 11-14). He doesn't only love us; He lavishes us with awesome love with full awareness of who we are. Yes, God is so awesome!
Every journey includes failures and fresh starts, and we all survive at the mercy of a generous, divine hand. You may not need a toaster or a can opener or gently used coffee table. But how have YOU experienced the benefits of the east to west, earth to heaven, fatherly love of God? 
When standing amidst the broken pieces, fear Him, remember His promises, keep His commands, and enjoy His steadfast love. The God who knows and loves us in our weakness must be blessed!