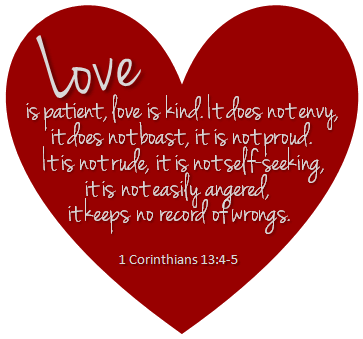 Love is this.
Love is not this.
Envious
Boastful
Proud
Rude
Self-seeking
Easily-angered
Keeper of wrongs
I'm not sure which list is harder.
But this I know: I can become neither list on my own. Without Jesus in me, it's hopeless.
Once again, as with other verses we're soaking in this summer (Ephesians 2:8-9, Romans 8:28, John 3:16, etc.), 1 Corinthians 13:4-5 reveal how desperately we depend on Christ's empowering grace within us to live a transformed life.
We're memorizing four verses from the famous "Love Chapter" (1 Corinthians 13) this week and next. As we walk these out, let's encourage each other to look to Jesus–He is the perfect example of Love incarnate.
Jesus is patient, Jesus is kind. Jesus does not envy, He does not boast, He is not proud. . . .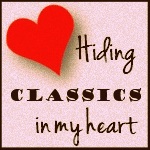 Do you show love easier by doing good things or by not doing bad things?
Who in the flesh has most recently demonstrated Christ's love to you?
Who most needs to see your love this week?
Please share your thoughts with us.