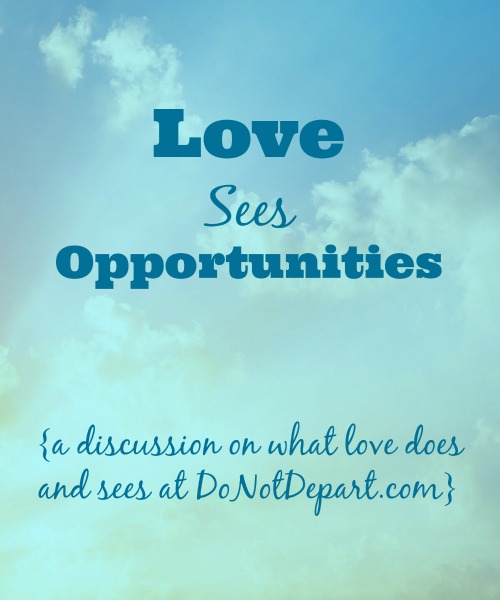 I keep saying that my children are teaching me more about life and love than I think I'll ever be able to teach them.
They notice things.
They notice to wonder at birds in the trees,
or flowers peeking through the snow,
or even that the same word appears three times on one page, and how amazing is that.
They notice when someone feels happy, and they get happy too.
They notice when someone worked hard, and they celebrate too.
They notice when someone feels sad, and they work to ease, comfort, and feel it too.
I think they notice all these things because they love.
Because they've been taught to love by their father (my husband) and their mother (me), yes. But more because God put hearts inside them that feel love, know love, and want to give love.
So because they love, they see.
And that's what love does. It sees opportunities to love more.
That's what I want to do. I want to always see opportunities to show more love.
"Now about your love for one another we do not need to write to you, for you yourselves have been taught by God to love each other…Yet we urge you, brothers and sisters, to do so more and more…" – 1 Thessalonians 4:9-10 (NIV, emphasis added)
But, I don't always see those opportunities.
What happens when I don't see?
I forget to see. That's what it is. My too-busy brain and human heart forgets love and therefore forgets to see.

But… (don't I say this in almost every post here?)… that's where grace comes in.
Love and grace are good partners. Grace reminds me and renews me to remember love. Love is what offered us grace in the first place.
A day before I even sat down to write this post, I wrote down a prayer I want to pray every morning:
God, help me see opportunities to show love and grace today. Help me choose Your purposes over my own every minute and renew quickly when I forget. Help me to see and love in your name.
Jason Gray (a superb musician and songwriter) wrote a song called With Every Act of Love. This song touches on how love sees opportunities to show more love and what those acts of love do. (We are His kingdom!) Please listen and read his lyrics.
"As heaven touches earth

We bring the kingdom come

with every act of love

Jesus help us carry you

Alive in us, your light shines through

With every act of love

We bring the kingdom come"

– With Every Act of Love by Jason Gray
(If you can't see the video above, click here to view the video. Also, click here to watch a video about the background of the song.)
Ever think what you see doesn't make a difference?
One of my favorite parts in this song are these lyrics:
"God put a million million doors 

in the world for His love to walk through

one of those doors is you"

– With Every Act of Love by Jason Gray (emphasis added)
We are His hands. His love works through us. What we do matters.
"Christ has no body but yours,
No hands, no feet on earth but yours,
Yours are the eyes with which he looks
Compassion on this world,
Yours are the feet with which he walks to do good,
Yours are the hands, with which he blesses all the world."

-St. Teresa of Avila
 So, tell me: What can you see today? What opportunities is love showing you? Please share in the comments!