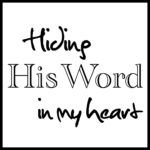 Only a few more days!
Then you can link your latest blog post or video about scripture memory with us. Our monthly link-up will be Wednesday, June 6.
If you memorized (or are still memorizing) Romans 8 or John 1 or any other passages, what have you learned? About the scriptures? Or about the process of memorization itself?
I'll be adding a link to my family's video of John 1, if you promise not to laugh. It took us a few more takes than I anticipated, but we had so much fun trying!
We look forward to reading or watching soon what you've been memorizing.