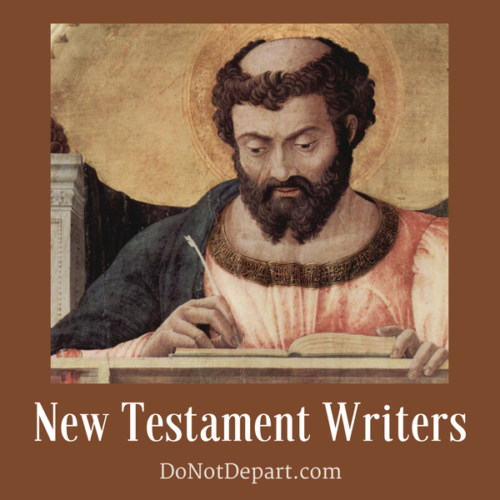 We have spent this month looking a little more closely at the eight men from all walks of life who wrote down the Holy Spirit inspired words of the New Testament.
Matthew – Once a tax collector, Matthew wrote in great detail about Jesus' life. He wrote the Gospel of Matthew.
Mark – Mark focused his writing on the facts and activities of Jesus while He was alive. Mark wrote the Gospel of Mark.
Luke – Luke was the only non-Jewish writer of the New Testament. He wrote the Gospel of Luke, as well as Acts.
John – John's love for Jesus stands out in all of his books. He wrote the Gospel of John, 1 John, 2 John, 3 John, and Revelation.
Paul – A prolific writer, Paul discussed complex theological questions from the perspective of a man who had personally experienced grace. He wrote 13 books of the New Testament: Romans, 1 and 2 Corinthians, Galatians, Ephesians, Philippians, Colossians, 1 and 2 Thessalonians, 1 and 2 Timothy, Titus, and Philemon.
James – James' practical style suited his message – your outward life should reflect your inward faith. He wrote just one book, the book of James.
Peter – Peter experienced a huge transformation because of the influence of Jesus Christ in His life. Peter wrote 1 Peter and 2 Peter.
Jude – Jude wrote passionately to fellow believers to warn them about the dangers of believing untruth. He wrote the shortest book in the New Testament, the book of Jude.
You may have noticed we did not discuss the author Hebrews – this book's authorship is unknown.
The writers of the New Testament were ordinary men who were transformed by the power of Jesus Christ in their lives. We hope you have discovered some new details about these men of the early Church through this series!
Save
Save
Save
Save