My teenage daughter and I recently discussed how blessed we are to have God's Word.
Are you like me? We have several Bibles in our home, have access by computer and smartphone, and encounter Scripture graphics pinned on Pinterest and shared on Social Media.
After counting our blessings, my daughter said "…You know… it won't always be that way."
She knows that persecution will increase as end times draw near. We've studied Christian persecution of the Ancient Church and she's seen recent news stories of horrific Christian persecution happening around the globe. She understands that following God doesn't always mean the guarantee of an easy path.
I can't say for sure if my daughter's words will be fulfilled in the way she meant or even in her lifetime. But what I can say is that Patti's words from the introductory post are spot on:
 "God's word is clear that we must expect persecution:

Indeed, all who desire to live a godly life in Christ Jesus will be persecuted.  (2 Timothy 3:12)

Paul didn't say we might be persecuted. He said we will be persecuted."
I've got to tell ya, I don't feel qualified to write about persecution– I am no expert on the topic and know that in many ways, I live a "spoiled" Western life. But, what I want my children to understand, and what I must remind myself, is that no matter what happens to us in life, God is good and He does all things for our eternal good.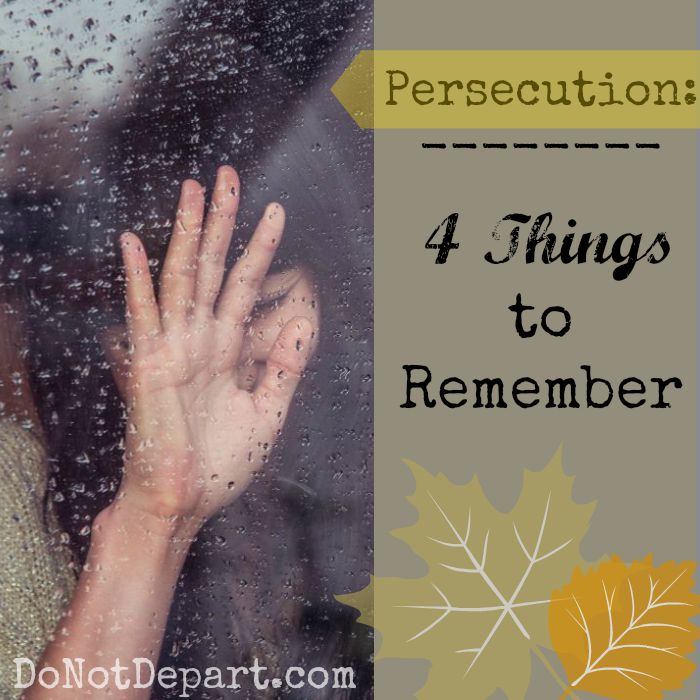 We Must Stand Firm
Persecution exists because evil (and the evil one) exists. Though the world is dark, we are called to be a light that glorifies God. (1 Thes 5:5) Our light shouldn't bend, dim, or bow to the beliefs and practices of the society around us. We must stand firm (Eph 6:13), honoring Christ with our body, mind, and spirit. We must live lives of obedience to His guiding, holy Word. And we are weak, we must lean into Jesus who can make us strong.
We Must Remember His Faithfulness
Focusing on God's attributes bring encouragement. We must never forget that we serve a sovereign,  faithful God. (Lam 3:21-23) Images of Christians awaiting beheadings, news stories of American Christian business owners being sued for intolerance, and the like range from heartbreaking to disturbing. They can leave us with heavy hearts, wondering if God has forgotten His children. But, we are assured over and over again that God is faithful. He is not a "hands-off" Father. He neither slumbers nor sleeps (Psalm 121), He keeps His promises, and can always be trusted. What He says is true, and He works all thing for our eternal good.
We Must Remember We are Never Left Alone
Going hand in hand with God's faithfulness is the promise that He will never leave us. (Deut 31:6) No matter how bad things get, Believers will never face one moment of persecution alone. Remember the story of Stephen? While being stoned to death, he looked into the heavens and saw Jesus standing on the right hand of the Father (Acts 7). It's reassuring to know that Jesus loved Stephen and revealed Himself to him in his dying moments. We must remember that we too have God's presence with us. The Holy Spirit is present in the heart of every Believer, every moment of every day. He will comfort, help (John 14:26), and strengthen us (Acts 1:8) when we need Him. We are safe in His hands.
We Must Remember to Have Hope
I don't mean here the type of hope that is a just a "wish" that everything will turn out ok. I mean the true, deep, confident hope of who God isand of Heaven and eternal riches in the physical presence of Christ. We must remember that this life on earth is not the only life, and that God works all things for our eternal good. Christians are promised an everlasting life in Heaven spent with God. And the proof of this future is offered in the down payment of the Holy Spirit. (Eph 1:13-14) We can also have hope in the fact that He works things for our good (Rom 8:28), is pleased when we glorify Him, and that in the grand scheme of things, our side wins the final battle.
Though persecution will come, we must remember to press deep into the One who promises His faithful, loving presence and extends to us eternal life.
God will never fail us.