You're not too late to join in as we memorize Psalm 27!
If you've never memorized with us before, this is a great chapter to begin with. We'll learn one verse per week, beginning this Monday, November 10, with breaks for Thanksgiving and Christmas.
Register today and print any free resources you'd like.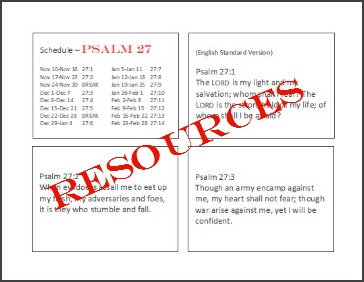 We trust that God will reveal fresh insights and give renewed strength as we set our minds and energy to seal the 14 verses of Psalm 27 into our hearts.
And even if you choose not to memorize, please follow along as we look at each verse, and be in prayer for those who will be attempting this challenge. Thank you!
Wait for the LORD; be strong, and let your heart take courage; wait for the LORD!
Psalm 27:14
"It's not too late! Register today to memorize Psalm 27 http://wp.me/p1Su7F-397 @DoNotDepart #HideHisWord"