You still have time to join us in memorizing James 1!
As we journey through this practical chapter, we'll be praying the Lord will help us count our trials as joys (James 1:2), ask for wisdom with confidence (James 1:6), see good gifts from God (James 1:17), be slower to anger (James 1:19), and so much more. It's a packed chapter!
We'll travel at a slow pace—1 to 2 verses per week with 2 weeks of breaks—to learn all 27 verses (Plan A). But if that's too much, memorize alongside us using Plan B. You'll still learn 8 important verses from James 1, but at a slower pace—1 verse every 2 weeks with 2 weeks of breaks. [See schedules here]
We begin this Monday, March 30! If you haven't already, register now to receive a short email every Monday morning with the week's verses and first letters. Then print your resources; place them strategically where you'll see them; read the chapter a few times; pray through it with intention.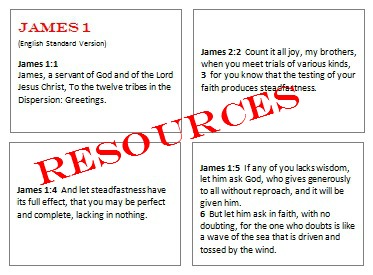 But whether you're joining us or not, we'd appreciate your prayers! We want to be doers of the word, not hearers only (James 1:22).
Questions? Ask in the comments.