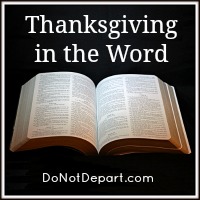 In our 29 years of marriage, we've moved seven times with my husband's job. Probably the hardest thing about each move has been leaving our local church family. However, the greatest thing about each new place is knowing that God already has a church family waiting for us there.
Thankful for God's Church
This month we are focusing on thanking God for His tremendous blessings in our lives. His church should be near the top of our long list. The apostle Paul constantly thanked God for his fellow believers and left us a good example to follow:
Every time I think of you, I give thanks to my God.  Philippians 1:3, NLT
Ever since I first heard of your strong faith in the Lord Jesus and your love for God's people everywhere, I have not stopped thanking God for you. Ephesians 1:15-16, NLT
We always pray for you, and we give thanks to God, the Father of our Lord Jesus Christ. Colossians 1:3, NLT
Specific Things to Thank God For
God works through local believers to love us in concrete ways. They are His hands ministering to us. Here's a sampling:
To teach us God's Word (Romans 15:14)
To comfort us (2 Corinthians 13:11)
To serve us (Galatians 5:13, 1 Peter 4:10)
To restore us (Galatians 6:1)
To bear our burdens (Galatians 6:2)
To build us up (1 Thessalonians 5:11)
To do us good (1 Thessalonians 5:15)
To exhort us (Hebrews 3:13)
To encourage us to do good deeds (1 Thessalonians 4:18, Hebrews 10:24)
To meet our physical needs (James 2:15-17, 1 John 3:17)
To pray for our healing (James 5:16)
I encourage you to use this list as a prayer guide today. As you read through this non-exhaustive list of the way God loves us through His local church, thank God for a specific people and particular ways He has loved you through His church.
I'd love for us to share some specific ways God has blessed you through His people. We can write them as a prayer of thanksgiving to God.