We're delighted to welcome Brooke Espinoza from Rivers of Water today…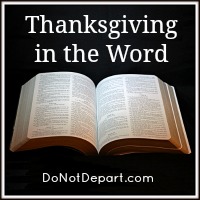 "In everything give thanks; for this is the will of God in Christ Jesus for you."
1 Thessalonians 5:18
I used to wonder about 1 Thessalonians 5:18 "How am I to be thankful for the headaches and heartaches of life?" Then I realized this verse doesn't say "For everything give thanks…" but it says "in everything give thanks…" I love that! I am to thank God in everything, not for everything. Like Pollyanna's Glad Game, the easiest way I've found to give thanks in everything is by looking for something I can be thankful for regardless of how my day is going.
A Reason to be Glad
No matter my circumstances, God always gives me a reason to be glad. Recently I was suffering big-time from a migraine. Even in the midst of my nauseating pain, I was glad that I don't get migraines like that very often, and every migraine I've ever had always has an end point, so I knew it was only a matter of time when my debilitating headache would go away. Right there I had two great reasons to give thanks in the midst of my migraine. As I thanked the Lord, though in a lot of pain, my heart was glad that these times of suffering were only occasional, and temporary.
Thankfulness is a Choice
David proclaimed in Psalm 34:1 "I will bless the Lord at all times; His praise shall continually be in my mouth." Thankfulness is a choice. Warren Wiersbe observed,
"We can't control the circumstances of life, but we can control how we respond to them. That's what faith is all about, daring to believe that God is working everything for our good even when we don't feel like it or see it happening."
When Paul and Silas were severely beaten and thrown in prison, instead of getting swept up in their terrible circumstances, they chose to give thanks in their circumstances by praying and singing hymns to God. (Acts 16:25) What an incredible testimony of faith they modeled to the other inmates, and now to us. Likewise, when we choose to give thanks in our discouraging circumstances rather than complain about our circumstances, we are a shining testimony of faith to others.
The Disciple's Study Bible notes that "God's will is that we gratefully acknowledge His hand in all circumstances, not for all circumstances." Though I may not be clear on God's will in my life regarding a particular situation, I can be certain of God's will for me regarding my attitude and how I am to respond to the blessings and trials of life. "In everything give thanks—for this is the will of God for you, in Christ Jesus."
Two Ways to Focus on Gratitude
When I get discouraged by a trial and catch myself complaining, two things help me to turn my focus back onto having an attitude of gratitude.
1. I choose to stop focusing on my problem, and start focusing on the promises of God.
These promises in particular always turn my discouragement into hope, despair into joy, and give me reasons to thank God in the midst of my trial:
God's plans for me are for good—to give me a future and a hope. (Jeremiah 29:11)
God will not withhold good from me (Psalm 84:11)
God is working all things to good (Romans 8:28)
God will deliver me—it's only a matter of when (Psalm 34:19)
Additionally, this summer I memorized Psalm 103 and since then if ever I need a little help in finding something to be thankful for while in a difficult time, I just think on the promises of Psalm 103 and find that it gives me plenty of reasons to praise and thank God.
2. I ask myself "What does this allow?" to turn my attention onto the blessings within my trial that I otherwise would have been blind to, had I continued to focus on how my problem is making my life difficult.
In Christ We Can Do It!
At first glance, 1 Thessalonians 5:18, looks like an impossible command. And truth is, in our flesh it is impossible. But in Christ we can do all things! (Philippians 4:13) As we seek to find the blessings in every trial, and habitually thank God in all things, we will experience a supernatural joy apart from our circumstances, like Paul and Silas, and find we always have a reason to give thanks.
Have you found a reason to be thankful in the midst of a trying circumstance?
Leave a comment!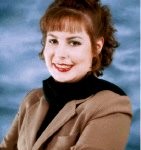 Brooke blogs at Rivers of Water, a site dedicated to encourage and equip Christian women to fully trust in God and His Word so when their faith is tested, through trials, they will not be shaken. She has a Bachelors degree in Biblical Studies from Calvary Chapel Bible College, and is passionate about studying and memorizing Scripture.