And to love to read.
Other than the Bible (it's # 1), what book has helped you love God more? Driven you to a higher level of spiritual growth? Inspired in you a greater passion to serve others?
Here are ten favorite books among a few of the writers at Do Not Depart (in an incredibly informal poll—sorry, no Barna statistics here).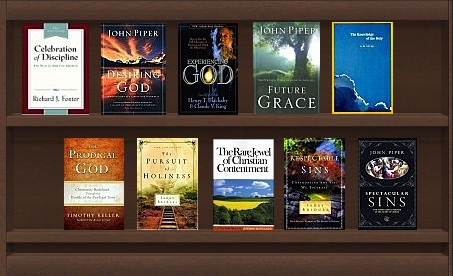 1. Celebration of Discipline: The Path to Spiritual Growth
by Richard J. Foster
A gift from her dad, this is the book that sparked Teri Lynne's interest in spiritual disciplines and the study of Christian classics. It's one of my all-time favorite books, too, because of its practical approach listing things we can do to grow spiritually, yet its insistence upon a total dependence on God for that spiritual growth.
2. Desiring God: Meditations of a Christian Hedonist
by John Piper
Heather says this classic Piper book opened her eyes to a different view of God, how He desires good for us, and how our enjoyment of Him brings Him glory. I agree. It taught me through multiple scriptures that the more I love God, the more joy I have.
3. Experiencing God: Knowing and Doing the Will of God
by Henry and Richard Blackaby, Claude King
First published in 1990, this book has helped people all over the world listen to God more attentively, and respond to His voice more actively. The more we experience Him, the more we learn to trust and love Him. This is one of Kathy's favorites.
4. Future Grace
by John Piper
Because I can be a worrier about the future, I re-read this book for a second time last year because of its strong urging to trust God not only for grace in the past, but also for grace in the future. I will continue to turn to its truths for practical scriptural advice on how to overcome a variety of sins and trust God's grace more. God has, is, and will help us—past, present, and future.
5. The Knowledge of the Holy: The Attributes of God and Their Meaning in the Christian Life
by A. W. Tozer
Perhaps you're familiar with this quote: "What comes into our minds when we think about God is the most important thing about us." It's from this 1978 book from Tozer about characteristics of God, all of which are worthy of our study and our honor. Learning more about God gives us more reasons to love Him.  This is another favorite of mine and Kathy's.
6. The Prodigal God: Recovering the Heart of the Christian Faith
by Timothy Keller
I've yet to read this one (it's on my list), but Sandra says it was a life-changer for her when she realized that the older brother in the story of the prodigal son was just as sinful as the younger brother. As a good-girl, rule-follower, she says this book showed her she was too much like the Pharisees, and like Paul, was "the chief of sinners." Discover a message of grace here.
7. The Pursuit of Holiness
by Jerry Bridges
After Julie was given this book in high school, she realized for the first time that God's Word should impact her thought life first, then everything else would flow from that. Realizing that God's standard of holiness is a goal to be pursued changed the way she runs her race as a believer.
8. The Rare Jewel of Christian Contentment
by Jeremiah Burroughs
Being discontent with your life's circumstances isn't just a modern-era problem. Burroughs wrote this as a Puritan in the 1600s but its strong message to find contentment in Christ alone is just as relevant today. I first read it two years ago and immediately felt its judgment in my own life (and I thought I was fairly content already!). It's a challenging read—both in vocabulary and in conviction—but it is well worth the effort.
9. Respectable Sins: Confronting the Sins We Tolerate
by Jerry Bridges
Sandra and Kathy both were impacted by this book that shines light on the more "acceptable" sins (like unthankfulness, lack of self-control, irritability, judgmentalism). Bridges navigates through these to lead you back around to the gospel message of God's forgiveness and grace.
10. Spectacular Sins: And Their Global Purpose in the Glory of Christ
by John Piper
This book can help you better appreciate and rely on the beauty of God's sovereignty in all situations, good and "bad." Seeing His hand at work through various stories in the Old and New Testaments can strengthen your faith that He is still active in the situations of your own life. Sandra and I both picked this one.
It's hard to stop at just ten!
Please add your favorites in the comments—what books have influenced your faith?
Disclosure: Some links are affiliate links. Do Not Depart will receive a small percentage of your purchase, at no additional cost to you.