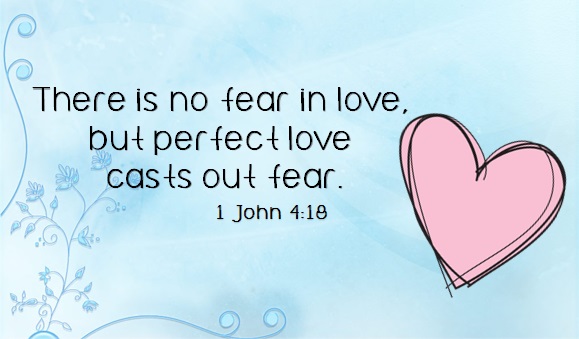 If you could substitute your fear today with love, how differently would you live?
I've seen it; you have too. The shy, in-the-background woman suddenly can keep quiet no longer. Someone she loves is threatened, and she has to speak up.
That's what love can do to us.
It makes us brave.
The world can be a hard place. It often requires things of us and ways from us that we don't feel equipped to give—time, energy, money.
And courage.
The world needs our courage.
It needs us to speak up for the powerless.
It needs us to create peace in chaotic places.
It needs us to love those who don't love back.
I received a short supply of courage by nature. I've always wanted more. And now that I'm an adult, I've seen the need for more.
But there's only one way my human tendencies toward worry and timidity can be overcome: By love.
Specifically, the love of God.  
We need a safe home base because it can go bad for us out there. We can be betrayed, knocked down, and even have our physical life ended by other people or circumstances. It's the risk we take when we choose to step out in love.
It's the risk Jesus took when He loved. Look where it got Him: He was betrayed, knocked down, and even allowed His life to be snuffed out.
But because Love is always stronger, He arose. And because His love now lives in us, we, too, can rise up to be brave.
God's love is the only unshakable foundation that can't be moved. No one can take away our safe place in God. Only through Him can we be truly brave. To go. To do. To love. Even to die.
Because we are loved, we can look reality eye-to-eye and keep moving forward.
Because we are loved, we can take chances to love others who are hard to love.
Because we are loved, we can give ourselves away trusting God will replenish us.
To err on the side of love is the brave thing to do. In God's love, we are safe.
Stay in His love today and do the next thing He's calling you to do. Even if you have knocking knees, a fast-beating heart, and a mind that says, "I'm scared!".
Fear says, "What if . . . ?"
Love says, "What can be . . . ?"
His love is bigger than our fear. May He make us brave.
Oh give thanks to the LORD, for he is good; for his steadfast love endures forever! . . . The LORD is on my side; I will not fear. What can man do to me?
Psalm 118:1,6
What do you need courage for today? Let's talk in the comments. 

Click here if you can't see the song video "You Make Me Brave"
Click here for the backstory of "You Make Me Brave"