Hope can be hard to find at times, can't it? 
Especially when the hard days seem more frequent than the easy ones…or when your prayers don't feel like they're making it past your bedroom ceiling.
It's hard to have hope when life is hard. 
But one thing God has been teaching me is that reading the Word is most important on the hard days. 
Yes, it's important every day, but on the hard days, God's Word is like raindrops to land plagued by drought.
On the hard days, Scripture is the pathway to hope.
Romans 15:4 says it this way:
The Scriptures give us hope and encouragement as we wait patiently for God's promises to be fulfilled (New Living Translation). 
THAT is why we abide in the Word: because the Scriptures give us hope and encouragement when nothing else can.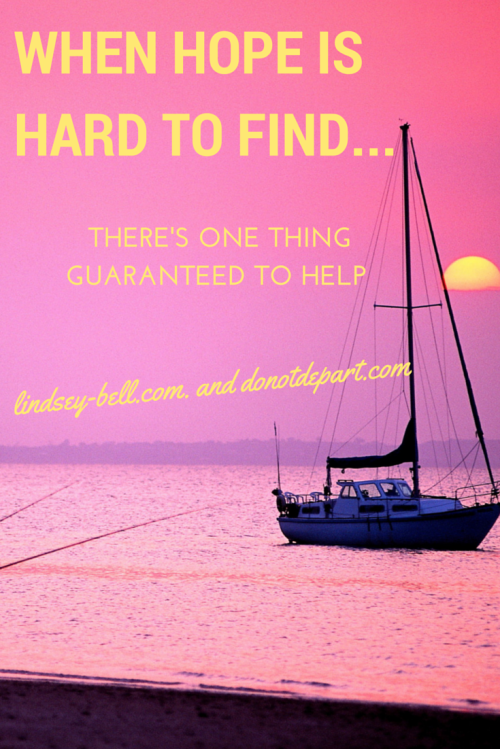 Not too long ago, after I experienced three miscarriages and then learned I was pregnant again, fear suffocated me. I worried I might move the wrong way or eat something I shouldn't or do something wrong and cause another miscarriage. (Fear doesn't always understand logic or reason, does it?)
Every moment I wondered, "Is it going to happen today?"
My fear, instead of lessening as the pregnancy progressed, only got stronger.
Then one day, I decided something had to change. Fear wasn't helping me. It wasn't going to keep me from losing another baby. It wasn't going to do anything good for me. The only thing it was doing was making me miserable.
I attacked my fear with Scripture. I memorized a few verses about worry, peace, and fear. Then, every time I felt worry creeping back into my heart, I recalled a verse.
God used Scripture to give me hope.
It wasn't hope that my pregnancy would progress without complications. It wasn't hope that the outcome would be different this time.
It was hope that He would be faithful to me. He would be faithful EVEN IF things didn't turn out well.
God can use Scripture to give us hope in His promises.
Here are some of those promises.
Bible Verses to Give You Hope: 
Romans 8:28 – "And we know that in all things God works for the good of those who love him, who have been called according to his purpose."
Deuteronomy 31:8 – "The Lord himself goes before you and will be with you; he will never leave you nor forsake you. Do not be afraid; do not be discouraged."
Hebrews 7:25 – "Therefore he is able to save completely those who come to God through him, because he always lives to intercede for them."
James 1:12 – "Blessed is the one who perseveres under trial because, having stood the test, that person will receive the crown of life that the Lord has promised to those who love him."
Matthew 11:28 – "Come to me, all you who are weary and burdened, and I will give you rest."
Romans 5:3-4 – "Not only so, but we also glory in our sufferings, because we know that suffering produces perseverance; perseverance, character; and character, hope."
Isaiah 40:31 – "Those who hope in the Lord will renew their strength. They will soar on wings like eagles; they will run and not grow weary, they will walk and not be faint."
James 4:8 – "Come near to God and he will come near to you."
Micah 7:7 – "But as for me, I watch in hope for the Lord, I wait for God my Savior; my God will hear me."
Psalm 62:5-6 – "Yes, my soul, find rest in God; my hope comes from him. Truly he is my rock and my salvation; he is my fortress, I will not be shaken."
John 16:33 – "I have told you these things, so that in me you may have peace. In this world you will have trouble. But take heart! I have overcome the world."
Matthew 28:20 – "Surely I am with you always, to the very end of the age."
Hebrews 10:23 – "Let us hold unswervingly to the hope we profess, for he who promised is faithful."
So if you're struggling to find hope today in the hard, dig into the Words that are guaranteed to help.
Let's Talk: What other verses have given you hope on a hard day?