As an introvert, it's easy for me at times to neglect my friends.
Don't get me wrong. I love them. I love spending time with them and chatting a morning away.
But I don't initiate well. Because I'm okay (and actually need) to spend time by myself, I sometimes fail to plan time with friends.
Can you relate?
Maybe you too are an introvert and struggle to initiate with your friends. (If this is you, check out Ali's post from last week! It has some great tips!)
Or, maybe you don't spend time with your friends because your schedule is packed full and the thought of adding another thing to your already full plate overwhelms you.
Or, maybe you battle insecurity and don't really think anyone would want to spend time with you anyway.
There are a variety of reasons we might fail to invest in friendships. Regardless of our reasoning, though, the truth is that we need friends. 
Here are a few reasons why.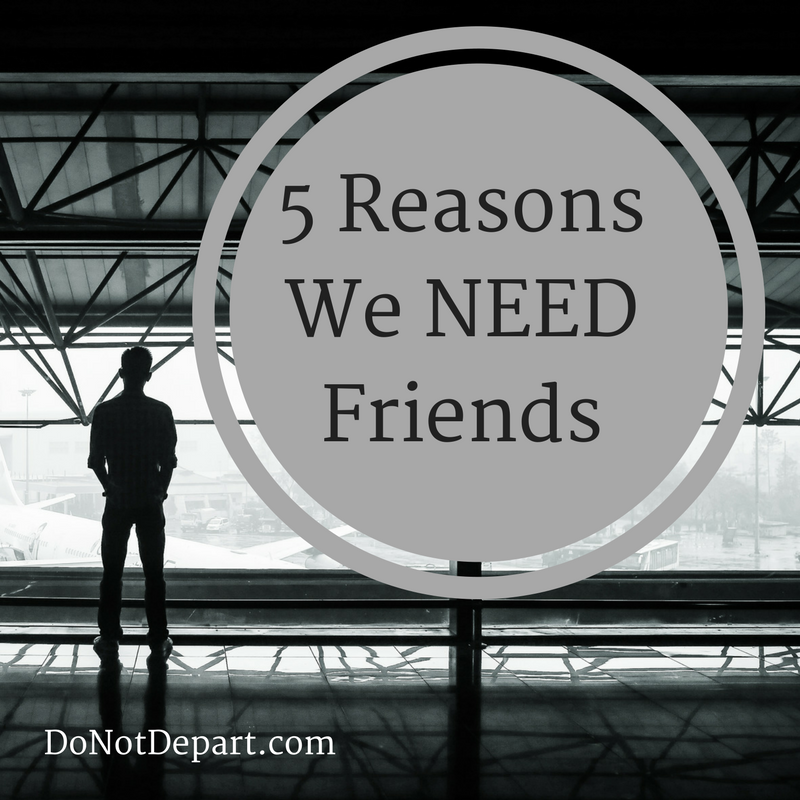 5 Reasons We Need Friends:
1. Friends can help us become better people.
Proverbs 27:17 (NIV) says it well: "As iron sharpens iron, so one person sharpens another." When we surround ourselves with godly friends, they can "sharpen" us and help us draw nearer to the Father. 
Proverbs 13:20 (NIV) says it this way:"Walk with the wise and become wise…"
Unfortunately, the opposite is also true. If we surround ourselves with friends who aren't godly, we will often be misled ourselves. 1 Corinthians 15:33 (NIV) says, "Do not be misled: "Bad company corrupts good character."
2. Women understand other women, and men understand other men.
My husband is a great listener. But at times, he doesn't (and can't) understand exactly how I feel.
I married a man, so I shouldn't expect him to think like a woman. If I need to get some advice, I talk with my husband. But I also talk with a few of my female friends because they are able to understand my feelings in a different way than he can.
3. We were created for relationship.
Even God didn't live alone. He (in the trinity) had relationship with himself. If God longed for relationship, we certainly shouldn't think we don't need it too.
He also created woman because he said that it was not good for man to be alone (Genesis 2:18). When God created us, he created us for relationship: relationship with Him, but also relationship with one another.
4. We need each other for accountability.
Men and women are both tempted, but our temptations aren't always the same.
Just as I want my husband to have guy friends who can hold him accountable to "guy temptations," I need friends to hold me accountable to my temptations. I need women who will challenge me if I've messed up, who will love me regardless, and who will refuse to stand by and let me throw my life away because of some sin.
5. We can't depend on their spouses to fill our every need. 
My husband is a wonderful man, but he can never be everything I need. He wasn't designed to be.
Some of my needs can only be filled with God, and some of them are meant to be filled with friends.
Let's stop asking our spouses to fill every need in our hearts and start looking to God instead.
"Okay," you might be thinking. "I get it. I need friends. But how do I go about getting them?"
Here are a few tips to help you take some first steps:
Look in your current circles for those who you think could be a good friend. Proverbs 12:26 in the NIV says this: "The righteous choose their friends carefully, 

but the way of the wicked leads them astray." So look for those who are living godly lives and who you think would lead you closer to the Father, rather than pull you away from Him.

Start taking the initiative with those you'd like to develop stronger relationships with. (See Ali's post for some simple ideas!)
Pray for God to bring people into your life who could become good friends.
Let's talk: What are some other reasons we need friends? What tips would you add to this list on how to begin developing stronger friendships?