Usually, when the distractions of daily life deplete our energy, the first thing we eliminate is the thing we need the most: quiet, reflective time.
[amazon_link id="0446563595″ target="_blank" ]Simple Abundance: A Daybook of Comfort and Joy[/amazon_link]
Is your world noisy?  Between the people, the gadgets, and the never-ending cacophony of social media and 24-hour news, the quest for quiet in the modern mom's life can seem more difficult than solving the national debt crisis.   And while we may recognize our need for other disciplines, like study or fellowship, we often find it difficult to acknowledge our need for silence or solitude.  We feel selfish or believe time for that will come in other seasons of life, but not now.
But maybe, it's those times when quiet is hardest to find when we really need it the most.
The Psalmist tells us,
Be still and know that I am God.  Psalm 46:10
How do we accomplish this discipline of stillness, of solitude and silence?  And especially how do we make it happen in the midst of our loud and busy lives?
What are solitude and silence in the life of a believer?
In her book, [amazon_link id="0446679151″ target="_blank" ]Intimate Faith: A Woman's Guide to the Spiritual Disciplines[/amazon_link], Jan Winebrenner writes, "[S]olitude, as a spiritual discipline, calls us to keep company with God." (116)
Isaiah, the prophet, wrote, "In quietness and trust is your strength" (30:15).
These disciplines, this call to stillness, is one of drawing close to God … of eliminating the distractions of daily life and listening, even resting, in His presence.   Winebrenner says, "The discipline of stillness, when exercised in faith and in the power of the Holy Spirit, will always yield fruit" (128)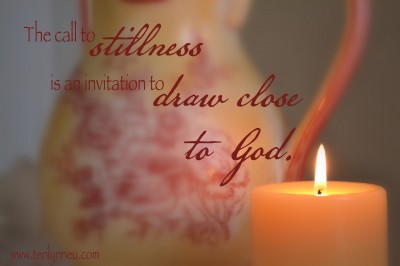 How can we incorporate these disciplines into our real, incredibly loud lives?
There is no perfect way to practice silence and solitude … nor is there a perfect amount of time to devote to them.   There are countless ways we can build this practice of stillness into our routines.  Here are few suggestions.
Establish a daily quiet hour (or 10 minutes!) in your home.   While many moms have this time scheduled for their children, they often fail to use this time for their own stillness.
Turn off the devices.  All of them.  You don't have to be accessible at all times, honest.  Make it a practice to spend meaningful time each day unplugged.
Learn to listen.  Listening is becoming a lost art.  Make a decision to listen more than you speak … both in your relationships with others and with the Lord.
Grab minutes and trust the Lord to multiply them.   We all have days when the only quiet is the two minutes in between crises … but when we give God those short minutes, He—in His incredible economy—is faithful to multiply the fruit in our lives.
Set the alarm 10 minutes earlier.  I know, I hear the groans through the screen. (Oh wait, that was actually me groaning as I typed.)  It's no fun to think about setting that alarm even earlier.  During those 10 minutes, even if you just lie there in the warmth of your bed, pray, offering those first dark moments of the day ahead to the Lord.  Meet Him in the stillness before the day begins.  It's worth it, I promise!
It is in the solitary moments, hemmed with silence, that we discover the heart of God … When we make time to be alone with God, we discover that his presence fills us with contentment like no other's can. (129)  [amazon_link id="0446679151″ target="_blank" ]Intimate Faith[/amazon_link]
How do you practice stillness, the disciplines of silence and solitude, in your life?  Please share your ideas and tips for stillness with us.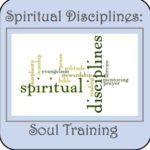 affiliate links included in this post.
image sources: (c) Can Stock Photo, Teri Lynne Underwood