When she opened the door to her humble home, warmth flooded into the night. A quick scan revealed simple furnishings and few decorations. Aromas wafted out of a small collection of dishes, exposing the time she spent preparing for our arrival. The only richness was the joy at our arrival, though we were strangers just days before. The scene would never be on glossy magazine pages or a network home show, but I'd never felt more cherished and comfortable in the home of a host. Her life said, "Welcome" as she graciously displayed the gift of hospitality.
What is hospitality?
If spiritual gifts are for the common good of the body of Christ, hospitality is the tray upon which they are served. Like other qualities of Christ followers, an hospitable spirit is not only expected of those so uniquely gifted. All followers of Christ are called on to, "Contribute to the needs of the saints and seek to show hospitality," (Romans 12:13). While the expression of welcome impacts those in the Church, the word for "hospitality" is "philozenia," a combination of two words that mean:  affection + strangers. If only offered to our church, family, and friends, hospitality is incomplete.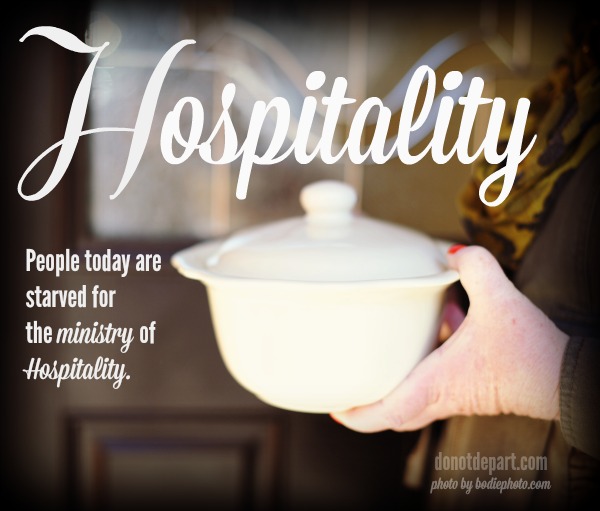 How does hospitality look?
Hospitality overflows from a heart of genuine love. We love others because we were first loved by God (1 John 4:19). The Romans 12 passage explains that sincere love results in an enthusiastic desire to serve the Lord, motivation to work hard, and inspiration to practice a lifestyle of hospitality. "Show hospitality to one another without grumbling. As each has received a gift, use it to serve one another, as good stewards of God's varied grace," (1 Peter 4:9-10). All believers should practice being open to receive others into their lives and homes, but some are uniquely gifted with a divine measure and ability to host and serve others.
You might have the spiritual gift of hospitality if:
You want to bring people into your home for fellowship and food.
You create an atmosphere where people feel valued and welcomed.
Your home/environment feels comfortable and safe to guests.
You put people at ease when meeting them or hosting them.
You enjoy sharing your home, relationships, food, and resources.
You take initiative to plan events to bring people together.
You extend yourself to others and find they are drawn to you.
You overcome challenges of cleaning, budget limits, or cooking to host.
You use appropriate etiquette and planning as tools to care for people.
You delight in having people in your space, especially your home.
Why we're starved for hospitality
Sadly, as cultures become more affluent, people tend to raise expectations, retreat in privacy, and to put up invisible barriers around their homes. Images of perfectly coiffed living rooms and camera-ready meals have us believing we need to be professionals before we open our lives and homes to church members, family, friends, or strangers.  Let's not hold back. We are stewards of our homes, to be used for welcome.  Hospitality does not pause or cease because we have little or because aren't winning cooking awards. A life of welcome has nothing to do with riches or comfort. People today are starved for the ministry of hospitality.
I remember the night I discovered pure hospitality.
I don't remember the food; maybe we ate pizza.
I don't remember the dishes; maybe we used paper plates.
I don't remember a centerpiece; maybe there was none.
I don't remember a seasonal wreath; I only know it was an open door.
I remember the beautiful fragrance of a life that says, "Welcome."
If you want to cultivate hospitality in your life, do a quick clean up, get some simple food (cheese & crackers & fruit?), and ask the Lord to show you who needs a welcome.
If you're an introvert and find hospitality challenging, you might like to read this.
If you'd like to read an example of a woman with the spiritual gift of hospitality, and read applications for using it in the workplace, church, and family, you would enjoy this short overview.
Click to TWEET This >>  Hospitality is the tray upon which spiritual gifts are served http://wp.me/p1Su7F-2Xy #Hospitality #SpiritualGifts via @DoNotDepart