It was Pompeii.
AD 79.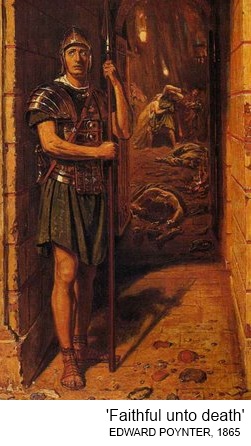 As the story goes, the Roman sentry heard, saw, and smelled all of life crumbling around him. Vesuvius had erupted.
Yet he hadn't been dismissed from his post.
So he stood.
Just stood.
Should we do any less?
There's only one way—stay near the throne. It's there we'll receive mercy and find grace to stand firm (Hebrews 4:16).
Jesus showed us how. He was faithful to do his Father's will (Hebrews 3:1-2). Tempted yet was without sin (Hebrews 4:15). Endured the worst to secure the best (Hebrews 12:2-3).
God keeps his promises.
So our confidence is in him. In his faithfulness. The only reason we can be faithful is because he is.
And our faithfulness—in big things and small things—will encourage others to stay in his presence too.
To be bold.
To love.
To do good works.
To do his will.
To receive rewards.
If we'll stand.
Just stand.
What did you learn in your study of faithfulness? How can we encourage each other to be faithful?