I'm no stranger to the drive-thru. Any drive thru. McDonalds, Starbucks, the Dry Cleaners, the Library- I love them all. They are convenient and quick, and when you are hauling four children around with you everywhere you go, convenience is king.
But the other day, I started thinking about how this love of convenience bleeds beyond just running errands, and has become a mentality affecting other areas of my life, including time spent in the Word.
Have you ever tried really quenching your thirst or satisfying your hunger with a sip from a water fountain and a handful of peanuts? Sure, it's quick, but it's not long before you are hungry and thirsty again. That's what it's been like trying to grow in my faith, by only reading a verse or two without really taking the time to fill up on the truth.
Just sipping.
Just snacking.
Jesus said, "Let anyone who is thirsty come to me and drink. Whoever believes in me, as Scripture has said, rivers of living water will flow from within them."   John 7:37-38
True satiation for our hungry hearts and parched faith comes through drinking from the living waters, from feasting on the bread of life.
I am the bread of life. Whoever comes to me will never go hungry, and whoever believes in me will never be thirsty.   John 6:35
Isaiah 55 reminds us what happens when we seek to grow closer to God by searching His words.  God calls the thirsty, the poor, and the hungry to Himself to be fed.
Listen, listen to me, and eat what is good, and you will delight in the richest of fare.   Isaiah 55:2b
Did you see that bit at the end- "the richest fare"? Anything else we substitute for time spent in God's word is sub-par, sawdust in place of substance. God's truths, spirit breathed into the words of scripture, are what delights us, and gives life. (Psalm 36:9)
God's truth gives life. Not just physical life, but taking the time to ingest the living quenches a starving spiritual life, it makes way for a living faith.
Give ear and come to me; listen, that you may live. (Isaiah 55:3, emphasis mine)
In my efforts to know God on a deeper level, he has constantly been reminding me that I cannot know his heart, if I don't spend time in His word, at the table.  James encourages us to "draw near to God", and that "He will draw near to you". (James 4:8)
If we want an active, living faith, a faith that "yields seed for the sower and bread for the eater" (Isaiah 55:10) if we want a faith that produces fruit, then we must invest time in reading and learning the very words of God.
When we take the time to read Gods word, He says that His word is powerful and "will not return to me empty, but will accomplish what I desire and achieve the purpose for which I sent it." (Isaiah 55:10)
Time invested in studying the word of God, brings forth fruit and accomplishes great things for His glory.
Getting your "daily bread" from a verse or two on a desk calendar with no further study of the word is like snacking from the drive-thru instead of feasting on the "richest fare".
I know this because I'm a recovering 'snacker'.  All this time, I've just been cheating myself out of the good stuff.
How can you revamp your time spent in the word so that you leave the table full, with the sweetest honey on your lips? (Psalm 19:10)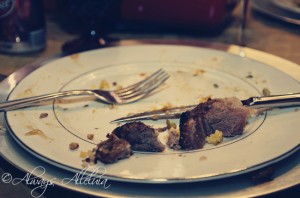 Lets stop the snacking and start digging in to the good stuff, I promise you, once you start, the rewards will far outweigh the convenience of the drive-thru.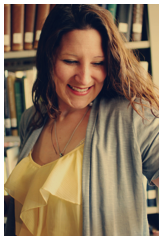 By Kris Camealy Always Alleluia
Kris loves Jesus with her whole heart, and is a stay at home mom and Compassion Advocate who spends her days homeschooling 4 kids, and playing wife to her amazing husband. The floors are covered in crumbs and the washing machine never stops running but she counts each day as a gift! In her spare time (ha ha ha!) she enjoys writing, reading and photography.