Today's declaration has consequences. Memorize Deuteronomy 30:18 with us this week.
Learn This Week
"I declare to you today, that you shall surely perish. You shall not live long in the land that you are going over the Jordan to enter and possess."
Deuteronomy 30:18 (ESV)
Memory Tips
Notice that Moses doesn't simply "say" this; he "declares" it. He is announcing something important. As you practice reciting it, you can declare it, too.
"I DECLARE . . ."
Again, it's "today." This is the fourth of five times in this section of scripture that Moses points out "today."
". . . to you TODAY, . . ."
Sometimes it's easy to confuse "will" and "shall" when we're learning a verse. The meaning is the same, but in this verse we see "shall" twice (except in NIV).
". . . that you SHALL surely perish. You SHALL . . . "
A thought is repeated within this verse, using different words: perishing and not living long.
". . .  NOT LIVE LONG . . . "
And again, "land" is mentioned (as in verse 16), both entering and possessing.
". . . in the LAND that you are going over the Jordan to ENTER and POSSESS."
Next Week: Break
For Thanksgiving week, we'll take a break from adding any new verses.
Study Guide
Use our accompanying study guide for this verse to think more about its meaning and its application in your own life: "I Declare – Study Guide for Deuteronomy 30:18"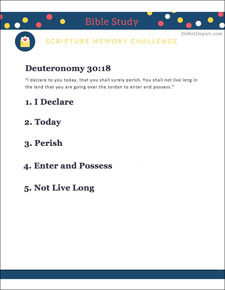 Please share your thoughts here.