Last December, we shared a round-up of Christmas and Advent activities and crafts. (Be sure to check that post for ideas, if you're still looking for some to implement in the next week!)
This year, we'd like to share a list of ten of our favorite Christmas and Advent books for your preschoolers, elementary, and middle school-aged kids!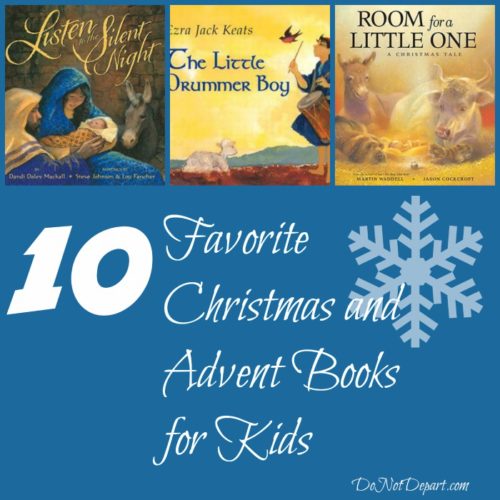 Christmas and Advent Books
Listen to the Silent Night by Dandi Daley Mackall, illustrated by Lou Fancher and Steve Johnson (Dutton, 2011) – This book shares a more realistic look at what Christ's birth could have sounded and looked like. The story is perfect as a read-aloud with great rhythm and beautiful illustrations on each page. (Ages 2-8)

Room for a Little One by Martin Waddell, illustrated by Jason Cockcroft (Margaret K McElderry Books, 2004) – This sweet picture book offers a calm look at celebrating the birth of Christ. (Ages 2-6)

Unwrapping the Greatest Gift by Ann Voskamp (Tyndale, 2014) – This newest release from Ann Voskamp offers a family advent book to read and with accompanying activities. The devotions are in true, Ann heart-wrenching, gorgeous writing. (Ages 3 and up!)

God Gave Us Christmas by Lisa T. Bergen, illustrated by David Hohn (WaterBrook Press, 2006) – A sweet look at learning about the first Christmas. (Ages 2-6)

Song of the Stars by Sally Lloyd-Jones, illustrated by Alison Jay (Zonderkidz, 2011) – If you've read The Jesus Storybook Bible (one of our very favorites), you know Sally Lloyd-Jones's style of writing. This book offers a beautiful poem in celebration of Christ's birth. (Ages 3-8)

Great Joy by Kate DiCamillo, illustrated by Bagram Ibatoulline (Candlewick, 2007) – While not specifically talking about Christ's birth, this book still offers a beautiful look at sharing love and hope, with a tear-inducing conclusion. (Ages 3-8)

The True Gift by Patricia MacLachlan, illustrated by Brian Floca (Atheneum, 2009) – From the author of Sarah, Plain and Tall, this book offers a simple and lyrically-written story about offering love and hope to all people and creatures. (Ages 7-11)

The Little Drummer Boy by Ezra Jack Keats (Puffin, 1968) – If you've read The Snowy Day when you were a kid or with your kids and fell in love with it, take a look at this one from Ezra Jack Keats. (Ages 2-8)

The Nativity by Julie Vivas (HMH Books for Young Readers, 1986) – This picture book tells the nativity story from Mary's point of view with enchanting illustrations. (Ages 2-6)

B is for Bethlehem by Isabel Wilner, illustrated by Elisa Kleven (Dutton, 1990) – This book tells the nativity story through poetic couplets and includes traditional aspects. (Ages 2-6)

What are your favorite Christmas and Advent books for kids? Share your favorites in the comments below, plus what age group the book is best for!