One thing I love about Christmas is the music. We sing a lot of songs in December that we don't hear at any other time of year. Some, like "Silent Night" and "Oh, Little Town of Bethlehem" point to Jesus. But many popular ones like "Jingle Bells" and "Deck the Halls" don't mention Jesus at all.
Those secular songs are fun, but they completely ignore the reason for the season. We celebrate Christmas because God came to earth as a man in order to provide salvation for mankind. That is definitely something not only to celebrate, but to also praise God for – in song and in word.
Praise packs the biblical Christmas story. We see it again and again in Matthew and Luke. Sometimes the praise took the form of a song and sometimes a prayer. But all these examples show us that praise is the appropriate response to the birth of our Savior.
How often during the Christmas season do we take the time to purposefully praise God?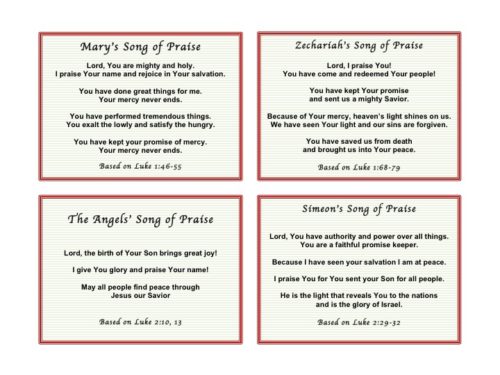 Today's printable contains four praise prompts based on the songs and prayers of praise in the biblical Christmas story. Print it out and cut into four cards. You can stick these four praise reminders in your Bible, on your fridge, or anywhere you will see them. Use these cards to prompt your own praise to God for sending our Savior.
Praise be to the Lord, the God of Israel, because he has come and has redeemed his people! Luke 1:68