Today we welcome Stephanie Shott, founder of The MOM Initiative and author of Ecclesiastes: Understanding What Matters Most. We've asked her to pull back the curtain on this wisdom book that has many readers stumped. Find out why it's a book of the Bible that helps us understand how to avoid wasting our lives.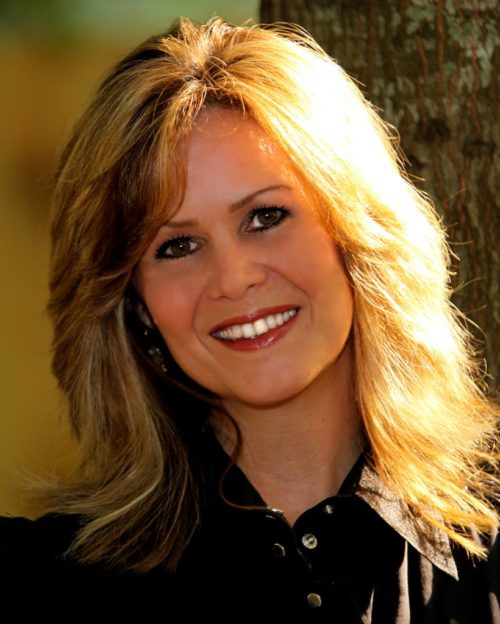 I have a huge affinity for Ecclesiastes. It was the unexpected place God took me when God called us to the mission field and I was desperately trying to make sense of that which didn't make any sense at all.
Yet, it was one of those books of the Bible others had told me I would never really understand. So every year, when I read through the Bible, I would kind of 'read over' it, skimming the pages of what seemed to be one of the most negative twelve chapters I have ever read, written by one of the most pessimistic men who had ever lived.
But when I really needed to know what matters most in life, God planted my face and my heart smack dab in middle of that often avoided book where I discovered how we can make our lives count and minutes matter.
When Solomon was about 20 years old, he became the successor to his father, David's throne. Solomon's wildest dreams came true, when in a dream God asked him, "What shall I give you?"
Wise enough to choose wisdom, Solomon was given more than what he requested. He was a man who started really well, but didn't cross the finish line as well as I'm sure he had hoped he would.
Solomon had it all. But like his daddy, he was a sucker for a pretty woman and what David did in moderation, Solomon did in excess. Somewhere along the way in his quest for more, he went from faithful to philanderer and from a man who worshiped God to a man who worshiped idols.
Ecclesiastes is written in his later years and was penned as a sort of riches to rags story. Kind of like a "been there, done that, you don't want to go there" kind of message.
Wow! What a waste! All that wisdom and he still blew it!
That's pretty scary to me!
I don't know about you, but I don't want to waste my life. It's really one of my greatest fears. I don't want to start out well and blow it along the way, do you?
I don't want to spend my days letting life happen, focusing on the insignificant, and being so distracted by the dailies that I miss what really matters most.
And it can happen so easily. The laundry, the dishes, the all night cry-a-thons with the baby, little-league practice, work, life, even ministry – they all vie for our attention.
But what I love about Ecclesiastes is that Solomon covers the gamut of life experiences and gives us a solution to how we can make our lives count, not in spite of all of what is going on in our lives, but in light of it all.
From Solomon & the book of Ecclesiastes we learn:
1. WISDOM DOES NOT EQUAL PERFECTION ~ Knowing how we should live and actually living like we know we should are two very different things. Wisdom gives us the knowledge and ability to choose well, but it is an act of our will to actually do it.
Recently, I noticed a Facebook post from someone who is known to have a wealth of biblical knowledge, yet he is also known as a very hard and arrogant man. It's pretty hard to tell someone about the love and mercy of God when others don't see the love and mercy of God actively at work in the lives of His children. We are to be living epistles who live out loud for Christ. Not perfect. But passionately pursing a life that honors God.
2. DON'T WASTE YOUR TIME GRASPING AT THE WIND ~ Throughout Ecclesiastes, Solomon uses the terms, vanity and grasping at the wind a lot. But in Ecclesiastes 12, he sums up what is important in life and tells us the bottom-line to life is that we fear God and keep His commandments.
It's easy to struggle with living for eternity in the midst of the dailies of life. But one day, with a toilet brush in one hand and a can of Comet in the other, the Lord showed me that I can even clean toilets to the glory of God.
It's so easy to long for the significant rather than the menial. Yet, each is equal in God's site when done for His glory. I'm not wasting my time when I'm cleaning toilets or scrubbing dried spaghetti off the carpets. With the right heart attitude, I can even do those things for eternity.
3. FAILURE IS NEVER FINAL ~ One of the hidden treasures of Ecclesiastes is the fact that it was written by a man who had forsaken God and followed false gods. He not only failed God, he forsook Him! But Ecclesiastes was penned in Solomon's later years…after he had taken a detour and tried to live life under the sun apart from Him. The book of Ecclesiastes stands as a testimony to all of us that failure is never final.
I've failed God a lot. Maybe you have too. And it's easy to think that God is done with us. But if you and I are still breathing, He's not. He not only has a plan for your life, but He has plans for each minute of your life. Don't give up. Don't give in. Do the next thing because He's not done with you yet!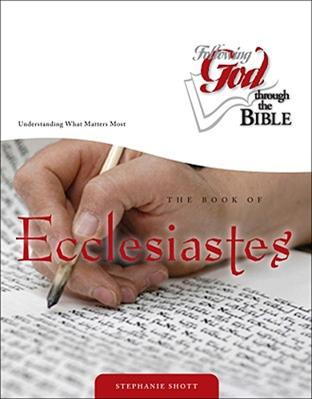 HAVE YOU EVER AVOIDED ECCLESIASTES? HAVE YOU EVER FELT LIKE YOU HAD LET GOD DOWN AND COULDN'T BE USED ANYMORE? WHAT ARE YOU DOING NOW THAT MAY SEEM MUNDANE, YET CAN BE DONE FOR THE GLORY OF GOD?
Find Stephanie at www.stephanieshott.com