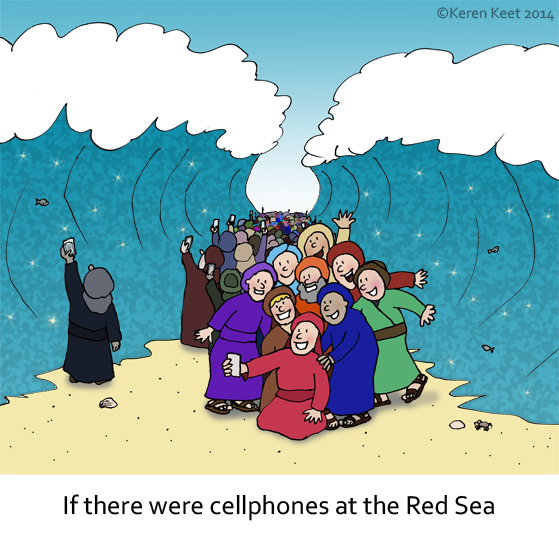 LOST AND ALONE
We were giving away free cotton candy at KidVenture. The children rushed to our booth with expectant smiles.
Except for a 4-year-old blonde-haired boy. His eyes showed fear: he'd lost his mama.
Even though he was surrounded by people, he couldn't find his people, his mother and his brother. His bravery to climb the jungle gym and even his excitement to eat free candy had disappeared because he felt alone.
But ironically, aren't we coached to be rugged individualists? Grow up to think for ourselves. Stand apart from the crowd. Go against the tide.
So why do we feel scared when we find ourselves alone?
Maybe because the advice is flawed. Maybe instead of bucking the crowd altogether, we just need to find the right crowd.
BY FAITH, THE PEOPLE . . .
As we walk through Hebrews 11 this month, we're learning about faith-filled individuals. But were any of them following God totally alone? Or did they have a crowd of others going with them in the same direction? (Gideon had his 300; Barak had Deborah; Jephthah had the Gileadites; Samuel had Eli;…Hebrews 11:32)
Look whose faith is commended in these two verses.
29 By faith the people passed through the Red Sea as on dry land; but when the Egyptians tried to do so, they were drowned.
30 By faith the walls of Jericho fell, after the people had marched around them for seven days.
Hebrews 11:29-30 (NIV)
It's the people. By faith, the people obeyed God together and saw the miracle. The people made it into this Hall of Faith.
All by myself, I assure you I would not have stepped into the Red Sea, with or without the waters parting around me (not even to take a selfie). (Exodus 14:21-22)
Would you have approached the walls of Jericho alone, blowing a trumpet along the way? Probably not! (Joshua 6:3-5)
Well, God didn't ask them to do it alone either.
But with my people ahead and behind me, my faith might have been strong enough to walk forward on dry ground away from Egypt. And with your people marching with you, you might have spent six days circling the walls of Jericho and on the seventh given the victory cry.
FIND YOUR PEOPLE
"Follow the crowd" is still not blanket advice we give without caveats. But when the crowd is going the same direction you want to go, draft along with them, like a biker in the Tour de France this month. Sing with the choir. Contribute to the small group. Play on the neighborhood ball team.
Draw strength from the faith of others, and pray for theirs in return. Let their bravery awaken your courage, and your compassion stir them to greater service. Find grace through the group and kindness in community.
By belonging to a safe crowd, you can more easily develop into the individual God created you to be, living out your purpose to bring Him glory.
After all, the Father, Son, and Spirit themselves are a community, and we're made in their image. We're not made to do life alone.
Back at KidVenture, I asked the lost boy his mother's name. He didn't know it. Brother's name? He wouldn't say. I began leading him to the front desk but along the way, he suddenly ran to a woman's leg and held on. He'd found his people and the light returned to his eyes, along with his faith to be brave and strong again.
And so it is with us. Surrounded by the people following Jesus, we can walk together by faith into miracles not experienced alone.
Find your people.
Brothers, join in imitating me, and keep your eyes on those who walk according to the example you have in us.
Philippians 3:17
* * *
Want to share this with others?
Follow the crowd. Good or bad advice? http://wp.me/p1Su7F-31i @DoNotDepart #ByFaith
Click here to tweet

Walk with others into miracles not experienced alone. http://wp.me/p1Su7F-31i @DoNotDepart #ByFaith
Click here to tweet
When have you been braver or done more good with others than if you'd been alone?
Who do you include as "your people"?
Let's talk in the comments.