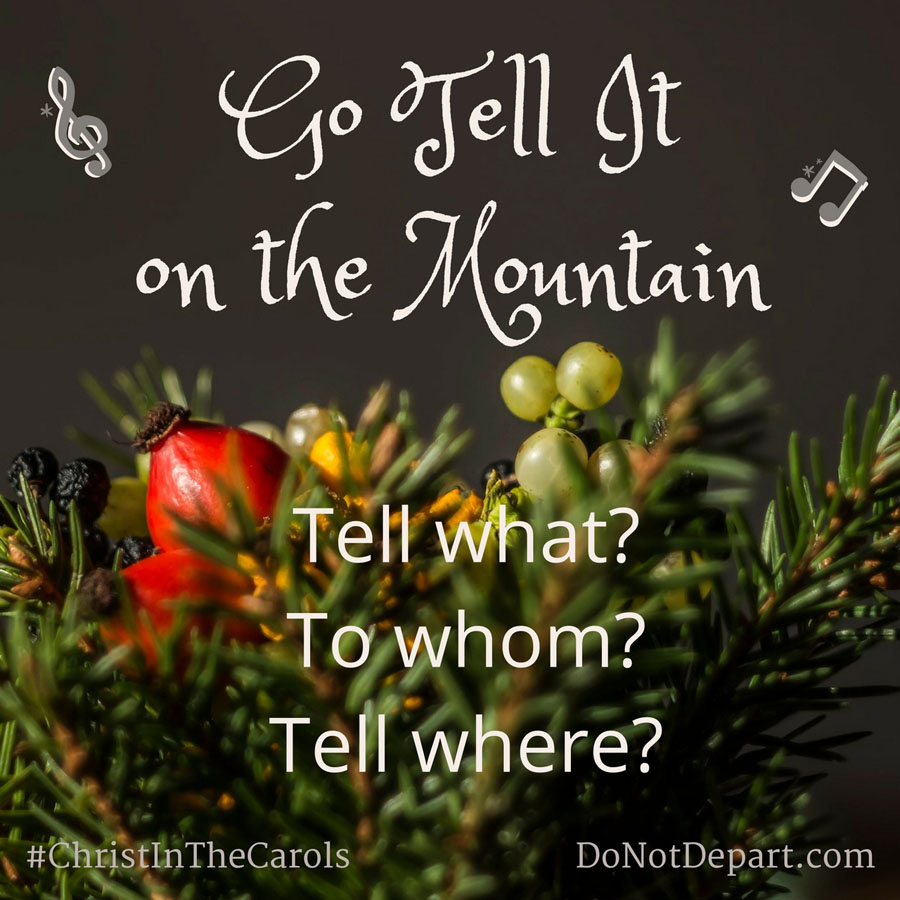 "How wonderful it is to see someone coming over the hills to tell good news. How wonderful to hear him announce, 'There is peace! We have been saved!' and to hear him say to Zion, 'Your God is the king!'"
Isaiah 52:7 (ERV)
What's the last big news you've shared? Who did you tell first?
When we have really good news, we don't want to keep it to ourselves.
We're looking at popular Christmas hymns this month. In "Go Tell It on the Mountain," the shepherds had great news to share.
What is ours?
While shepherds kept their watching
O'er silent flocks by night,
Behold throughout the heavens
There shone a holy light

~ ~ ~

Go, tell it on the mountain
Over the hills and everywhere
Go, tell it on the mountain
That Jesus Christ is born.
But we're not one of the shepherds. We didn't hear the angels or see baby Jesus or run to tell others.
What do we have to share?
We often don't even know what our own good news is. Yes, we know the broader story: Jesus came as a baby to save the world. But sometimes the generality of that message loses its punch in the daily specifics of our lives.
What is your good news? If you're in the midst of your own personal struggles, how can you confidently tell others that Jesus is the giver of peace and joy? And who wants to hear what you have to say anyway?
Take a step closer to this song. Discover three ways in which we, too, can "Go Tell It on the Mountain."
1. Tell Your Part of the Story
We don't know the exact author of this song. But we do know it was written by African-American slaves in the American south by at least 1865. Life was extremely difficult for them. They endured or died from atrocities that most of us can hardly even imagine.
Yet these are the ones who wrote a song of good news?
Yes. Perhaps especially during the hard times, we notice God's small and large graces even more keenly. We're looking for hope. And hope can be found.
Pay attention to where you see God's goodness in your own life. Even in difficult circumstances.
That's your part of His story that you're responsible to tell. And it's an important part of the story, however small you may feel it is. It's nothing you create yourself. Just share what you're seeing and hearing.
2. Tell Those Who Need to Hear
Negro spirituals were written and sung by and for those who needed hope. They needed to remind each other that God wasn't finished yet. Justice would still come. Righteousness would prevail in the end.
We need to hear those messages, too.
Who in your life needs to hear words of hope?
Maybe when they hear how God has worked and is working in your corner of the world, they can feel hopeful that He is powerful and kind enough to do it in their corner, too. Your story is meant to be shared.
God works in your life for more than just you; it's meant for others, too.
3. Tell It Wherever You Go
Like most Negro spirituals at the time, "Go Tell It on the Mountain" was originally passed on as an oral tradition among plantations, not as a written one. Only when John Wesley Work, Jr., the son of a church choir director and a Greek/Latin professor himself, collected songs to compile in the songbook, Folk Songs of the American Negro, in the early 1900s, did "Go Tell It on the Mountain" become widely known.
It's since been sung millions of time, and continues to be sung in many different styles and by many different voices. (Watch the video below.)
Where can we sing our good news today?
Wherever we naturally find ourselves. We don't have to have a stage or a recording contract or an audience. Our friends and co-workers and families are the ones who listen to us talk about other things; why not hear us talk about what Jesus has done for us?
We can be confident that God will put the right people in our lives who can benefit by the message we have to share about Him. Just as the shepherds told those around them about the birth of Jesus, we, too, can share with those around us about the life of Jesus.
When we share joy with others, we create more joy for ourselves. Our faith increases when we are more attentive to God's works and goodness. It brings Jesus honor when we tell others how good He is.
Sharing Jesus is sharing Love. That is good news.
Go tell it yourself. On the mountain, over the hills, and everywhere.
Watch and hear:
Especially from 1:27 onward, enjoy this beautiful version of "Go Tell It on the Mountain" by The Mississippi Mass Choir. It will bring you joy.
"Go Tell It on the Mountain"
[If you can't see the video, click here]
What good news from this year can you tell?
Who has shared good news with you this past year?
Please share in the comments.
Related:
Listen to this week's episode of Pass the Mic podcast – Safe Havens in Tumultuous Times – to be encouraged by the faith and strength of the black church in times past as well as in the present.