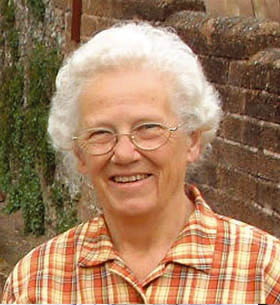 Helen Roseveare spent almost two decades dispensing medical care and eternal hope in the rainforests of Africa. In 1953, Dr. Roseveare left the material comforts of Great Britain for the Belgian Congo to serve as a medical missionary. For the first twelve years she built village hospitals, treated every illness and injury, loved the people, and told them about Jesus. Then in 1964 her circumstances turned from physically difficult to excruciating.
Political unrest marked the Congo in the early 1960's. Although danger and instability were rampant, Dr. Roseveare chose to stay and continue her work. In 1964 violence escalated with the onset of a civil war. Dozens of missionaries were slaughtered and 200 Catholic priests and nuns were murdered. One Saturday afternoon in August, rebel forces entered Roseveare's village. Some of them invaded her home. That night Roseveare was brutally beaten and raped. The rebels took her and a small group of other missionaries captive. For five long months she endured continued violence at the hands of her captors.
After her rescue in January 1965, Dr. Roseveare returned to England, but stayed less than a year. In 1966, she went back to the Congo to continue her work. The doctor spent the next seven years rebuilding hospitals, establishing a medical school, and training doctors and nurses to care for the Congolese people in the name of Jesus. (Brief bio)
Why did she return? Why did she leave the comforts and security of England for the uncertainty and potential suffering of the Congo?
Now or Forever?
Dr. Roseveare's eternal perspective propelled her back. She could not remain in the United Kingdom when people in Africa had "never yet heard of our Lord Jesus Christ and of the redemption He wrought for them at Calvary."
Even after her return to the west in 1973 she spoke and wrote to inspire other Christians to live in a way that reflected their certain hope in Christ's return. Our costly redemption and the ongoing transformative work wrought in us by the Holy Spirit were more than enough incentive for Roseveare. In her book Living Holiness, she encourages readers to live holy lives, secure in Christ's return, with a "longing in our hearts to be found watching and waiting to welcome Him."
The following video is a brief interview with Dr. Roseveare. She talks about the sufficiency of God's grace during times of suffering and why it's vital believers "fall in love with Jesus."

Our Struggle with the Temporary
I must admit, when I read about Christians like Helen Roseveare I feel like a hypocrite. Although I believe we must live our lives focused on the eternal, I still sometimes find myself living for the temporary. I still favor my comfort, my time, and my things too much. The temporary still has too much influence on my decisions and actions. I still often moan "Why me?" when trials and difficulties hit. And I still sometimes hesitate to talk about Jesus for fear of how someone else may react.
Many Christians get stuck in the demands of the here and now. Temporal activities pull us away from eternal matters. We pour our time and energy into the "delights" of this world and end up with little of lasting value. We often choose physical comfort over spiritual growth and refinement. But gaining the comforts of this world satisfies us only temporarily. Earthly pleasures all wear out and lose their appeal. And when the difficulties of life come, we are thrown off-balance.
Created for Eternity
No amount of worldly success, acclaim, or stuff will last any longer than my last breath. In the scope of eternity, it is all meaningless. But the things of God – the things that impact souls for Christ – will never rot, crumble, or fade away. We must look beyond the things of this world to find true meaning and relevance for life. God programmed us for eternity. He wired us to find fulfillment and excitement in the things that last beyond the physical. Living with an eternal perspective can generate an excitement and passion our faith has been missing. Let's not wait any longer to live for forever! (Note: This post was excerpted from Kathy's book "Fed Up with Flat Faith")
Have you been living for the here and now or for eternity? What one change can you make today to focus more on the eternal?
For more about Dr. Roseveare and her return to the Congo see the movie about her life "Mama Luka Comes Home"