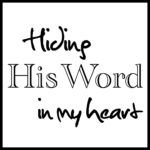 Memorizing Bible verses is a spiritual discipline that reaps benefits not only in the moment but over and over in days ahead.
The writer of Psalm 119:11 hid the Lord's word in his heart so he wouldn't sin against Him. We, too, can intentionally place God's teachings and promises inside us, both for now and for later.
I have hidden your word in my heart that I might not sin against you.
Psalm 119:11 (NIV)
Today let's encourage each other with this practice. Please link a blog post you've written either recently or in the past about scripture memorization. 
Then visit other links as your time allows, even leaving the blessing of comments when possible.