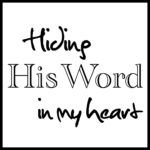 Do you memorize scripture? What's been your experience with it?
Please link a written post or video about scripture memory from your own blog to share with our readers here. Then visit other links as time allows so you can receive and give blessings to many. We'll keep the list open the entire month of June, so add more as you write more.
We'll highlight a link a day on our Facebook page. Your words are too strengthening for us not to spread them around.
Memorizing Bible verses isn't easy, but the rewards are lasting and rich both for you and for the people God puts in your life!
We're using June and July to review verses previously learned, then will start with a new memory chapter in August. Please leave a comment below sharing what you are reviewing this summer.