Once a month we have a chance for you to share about your memorization journey. We want to hear about your successes, failures, tips and encouragement. It is a blessing to know you are all out there, striving together with us, treasuring God's word in such a tangible way. So, post your heart, stories, pictures and v-logs (kids are welcome, too)! Whatever you have to let us know about your memorization efforts.
If you link up, be sure to do some blog-hopping and use the button so readers can find us! If you don't have a blog, just leave a comment about your memorization efforts.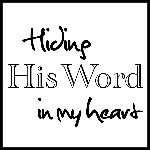 Subscribers, click here to see the link-ups.