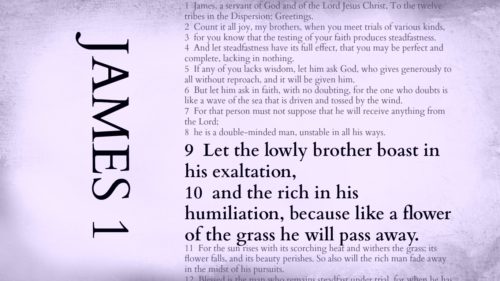 [click on picture above then download for full-size wallpaper]
MEMORIZE
Plan A:
Let the lowly brother boast in his exaltation, and the rich in his humiliation, because like a flower of the grass he will pass away.
James 1:9-10
Plan B:
If any of you lacks wisdom, let him ask God, who gives generously to all without reproach, and it will be given him.
James 1:5
MEDITATE
We return now to James' early admonition to "count it all joy" (James 1:2). If you're in a season of lowliness (however you define that), be glad that you'll be going up from here. If you're in a position of wealth, be mindful that it is not permanent.
Whatever your circumstances, find reason to consciously rejoice.
PRAY
Lord,
I want to trust in You alone. Regardless of what situations swirl around me, let me be faithful to you. 
QUESTION
What do these verses mean in your own life right now? Please share in the comments.