When we consider the persecuted or consider the possibility of persecution, many of us may hesitate on reacting.
Like Patti mentioned last week, "We just don't know how to respond."
I agree. We, if we've never been in that situation, don't know how to respond. So we hesitate. We also hesitate possibly out of fear.
Fear of the unknown.
Fear of not actually helping.
Fear of consequences.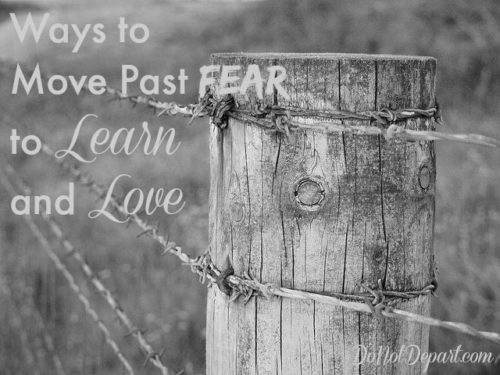 Moving Past Fear
What helps move past fear? Two big things: knowledge/awareness and trust.
We can trust our great big God that He is present and He is active. We pray and persevere because we trust Him.
As for that knowledge part? While there are many ways to learn about anything we don't understand or fear because of its unknown nature, I'll mention just two:
Be around and listen to those who have experienced similar situations.
We can't truly understand what someone else has gone through, but we ask them to tell their stories. Stories have power. And every person's story is important. We can listen. And by listening we might know how to then help and support and change.
Also by listening? We can help avoid being the persecutors in some ways, as Lisa explained.
One way to listen today? Read the guest post on this site from earlier this week, a very personal story of persecution from our anonymous guest poster.
Read.
Reading is often going to be a solid, reliable answer to gaining more knowledge, but, specifically there are some powerful stories of persecution, faith, and perseverance in several books. Knowledge increases awareness which increases understanding and compassion and action. Obviously, reading the (many) stories of persecution in the Bible help open our eyes. Other individual stories help, too. Here are four other books to get you started:
The Hiding Place by Corrie ten Boom – Corrie ten Boom's story is a fairly popular one, and it remains a largely encouraging one. She details many of the atrocities she went through and yet manages to encourage and uplift every person who reads her story through her faith. Because of her personal story, we can understand persecution in some way a little more fully.
Evidence Not Seen by Darlene Deibler Rose – This book tells Darlene's true story about being a missionary during World War II and imprisoned in a war camp.
God's Smuggler by Brother Andrew – Brother Andrew's intense story of being an undercover missionary across "closed borders."
One of the several books about Dietrich Bonhoeffer, and while I haven't read it yet, Bonhoeffer by Eric Metaxas comes highly recommended. (Here are 12 Bonhoeffer quotes if you haven't read anything by him yet to get a feel for his experience and theology.)
Patti also mentioned three organizations that aid the persecuted (and there are many more!). Learn from these organizations and those like it so we can all support, help, and build community. We can build each other up in love.
"Finally, all of you, have unity of mind, sympathy, brotherly love, a tender heart, and a humble mind. Do not repay evil for evil or reviling for reviling, but on the contrary, bless, for to this you were called…" – 1 Peter 3:8-9
Also, in light of recent events with the refugee crisis (also the persecuted), please read this post and this post from Ann Voskamp on why we need to help and specific ways how we can help.
What do you recommend reading or doing to move past fear and into action?