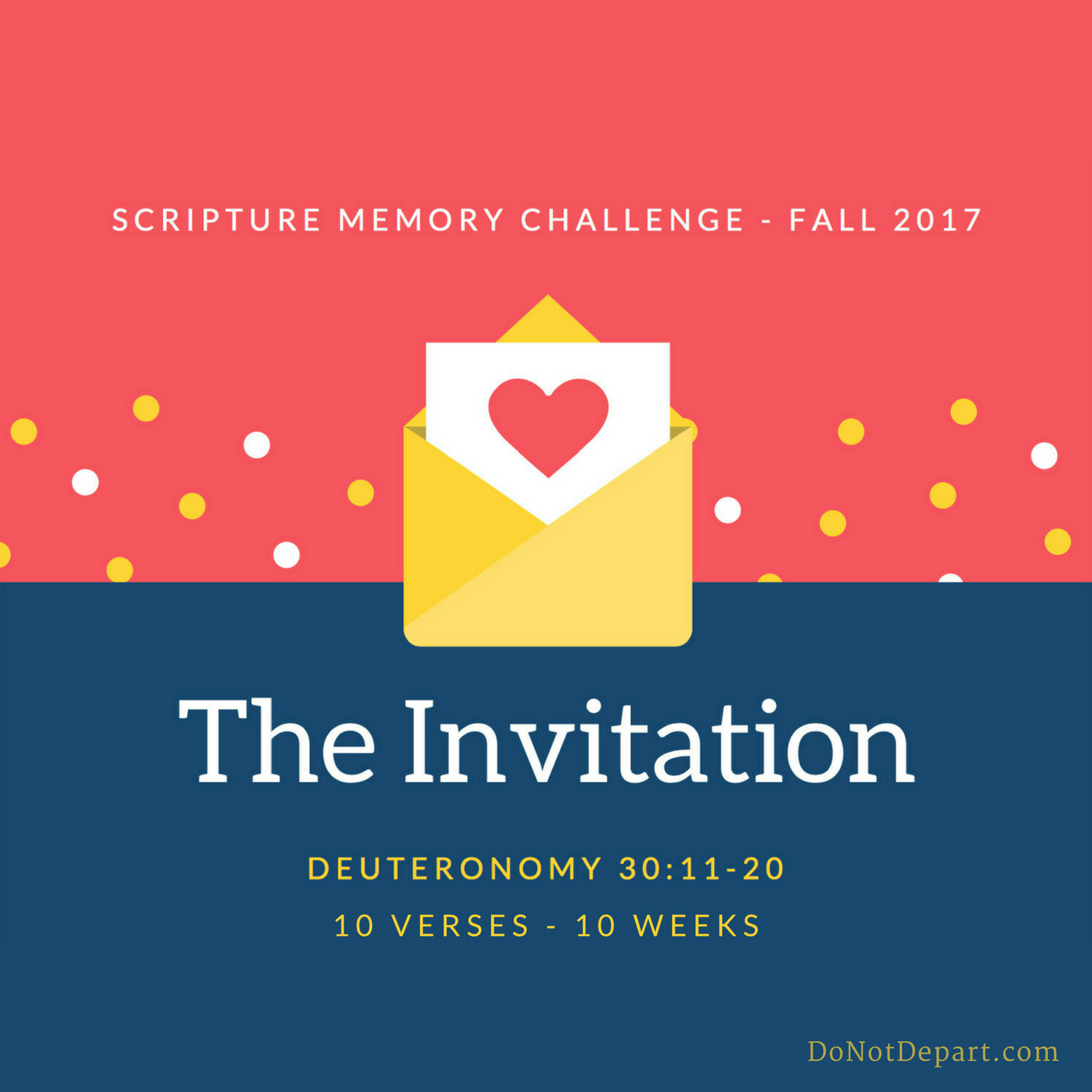 Deuteronomy? Really?
It may sound painful and old. But it's not!
It's Your Choice
God is still speaking today—to us—through these 10 verses (Deuteronomy 30:11-20).
"I have set before you life and death, blessing and curse. Therefore choose life, that you and your offspring may live."
Deuteronomy 30:19
Our choices are now.
And our choices affect not only today, but they also affect tomorrow (which will one day be our past).
As Moses invited the Israelites to choose—life or death, good or evil—so God also invites us to choose.

If you choose to memorize with us, just one verse a week for ten weeks, you'll discover this:
The command to love God is not too hard for you, and neither is it far off (Deut 30:11).
The word is as near as your own mouth and heart (Deut 30:14).
You can do this (Deut 30:14).
If you love the Lord your God, you will be blessed (Deut 30:16).
And more.
Your Invitation
God doesn't command us to memorize. You're not better if you do. You're not worse if you don't.
But if you're looking for a way to follow God more intentionally, to be more aware of the blessings He sends, and to make better choices in your everyday life, this invitation is your opportunity to join us.
When you sign up, we'll send you our Frequently Asked Questions email and links to our free downloadable resources. You can print the ones you like and get started memorizing!
We'll then send you one email each Monday morning, reminding you of the verse to memorize that week, as well as post it here on the blog.
And new for this Fall 2017 challenge, you can also download a free five-day Bible study on the Friday before each new verse begins. Get it here at the blog beginning September 22.
Here is our official schedule. We'll start on September 25, take a week off for Thanksgiving, and be finished several weeks before Christmas.

Would you help us spread the word to your friends?
Sign up here!