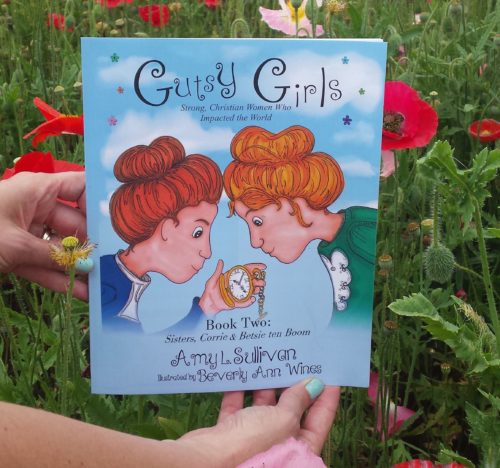 If I think hard enough, I can remember times in my life when I acted bravely.
In sixth grade, I confronted a neighborhood bully who stole my jeans from a local Laundromat.
In ninth grade, I took on a gaggle of teens who were making fun of a student with disabilities.
When I was twenty-three, I planted myself in the middle of an isolated Navajo Reservation and loved on kids who were not my own.
When I was thirty, I hiked up a mountain with twenty-seven teenage boys. At the end of the trail, the boys and I took turns flipping off a twenty-foot cliff into the water.
When I was thirty-two, I discovered the power in praying for people I don't know and places I've never been.
But if I think of right now, and I think of forty-one-year-old me, I can't say my life is full of brave acts, and I am not just talking about flip-off-a-cliff-bravery. I am talking about living in obedience to God bravery. When I feel the Holy Spirit asking me to do something, I don't want to evaluate it. I want to trust and act.
I want to live with gutsy faith, and I want my daughters to live this faith, too.
Let's Introduce Our Kids to Real Heroes, Godly Heroes
Confession time: my daughters have known who the Kardashians are for a long time, but they have only recently been introduced to Lillian Thrasher. They know about Miley Cyrus, but they know nothing of Elisabeth Elliot. They can recite facts about Taylor Swift's childhood, but they aren't sure why Mother Teresa is well-known.
I know. I can feel you shaking your head at my seemingly lax parenting, but what I've discovered is that despite internet filters, restrictions on TV shows, preset radio stations, and bans on all things trashy, the world is determined to tell my kids whom to admire.
I pump gas while a video screen pumps footage of a scandal involving an NBA player. I stand in line at the grocery store, and another screen reports the details of a fallen starlet's latest escapades. I go to the library, and magazines and newspapers document the beachfront mansion bought by a girl who is famous for simply being famous. The world shouts, and my daughters take it in.
My kids aren't bombarded with real heroes. Instead, they are bombarded with the world's heroes, and I am determined to change that.
A New Picture Book Series to Encourage Young Believers
If you combine my sincere prayer for my daughters to know what it's like to live gutsy for God with my fierce determination to provide my girls with real heroes, you get Gutsy Girls: Strong Christian Women Who Impacted the World.
This picture book series focuses on one woman per book, but the second book (which just released!) in the series highlights sisters, Corrie and Betsie ten Boom.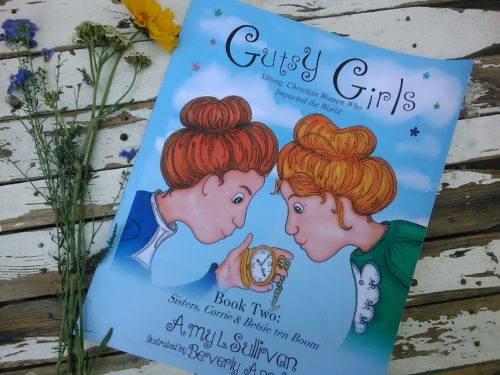 The ten Boom sisters weren't flashy or popular. They were two women from the Netherlands. The sisters lived with their father during World War II and witnessed unspeakable horrors in a time in which great evil flourished.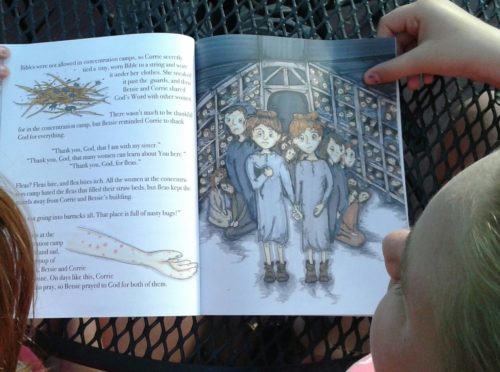 However, instead of cowering in fear, the sisters, Corrie and Betsie, acted bravely in God's name.
They created a secret wall in their home and hid people who were in danger. Corrie and Betsie developed codes to keep individuals Nazi soldiers hunted safe. After the sisters were arrested, they boldly shared about Jesus in concentration camps. Even when Corrie and Betsie were stripped of all worldy possessions, they continued to teach about Jesus' great love.
The ten Boom sisters lived gutsy for God. They lived in obedience. Corrie and Betsie didn't allow fear to stop them from following the God's plans.
What role models. What faith. What women I want my kids to know.
Free Resources and Activities
As parents, grandparents, and ministry leaders, we are constantly looking for resources to keep our kids in the Word and encourage them as believers.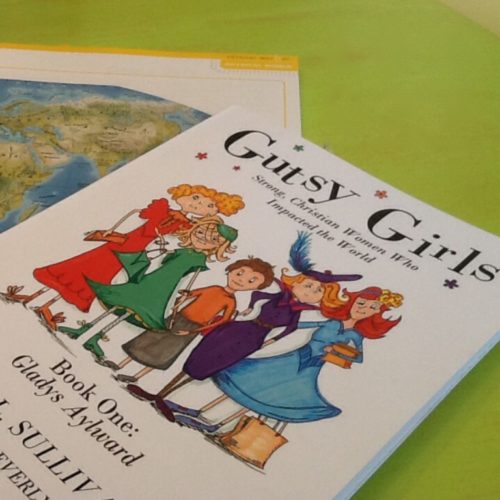 To help with this enormous task, I've created lesson plans, printable graphics, an enrichment packet (which includes geography, math, reading, and writing activities!), and Gutsy Girls printable verses, which accompany the Gutsy Girls picture books, and I want to share these resources with you!
Click here to download resources now.
In addition, I also host an online book club specifically designed to discover and discuss books written to inspire girls to be smart, bold, and godly. Within this Facebook group, members are given special VIP access to authors who write for children.
Click here to join us and to get special VIP access to authors who write for girls.
Thanks for reading this month's installment of Let the Children Come! I pray you create space today to live gutsy for God. It is my hope that these resources find their way into lots of little hands. 
---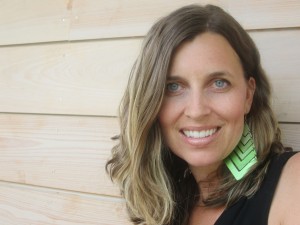 Amy L. Sullivan is the author of the children's picture book series, [amazon_link id="B014S06JJI" target="_blank" ]Gutsy Girls: Strong Christian Women Who Impacted the World[/amazon_link] and the nonfiction book [amazon_link id="1941103243″ target="_blank" ]When More is Not Enough[/amazon_link]. Amy shares regularly at AmyLSullivan.com, and she also writes for oodles of online and print publications. Find her at AmyLSullivan.com.
---