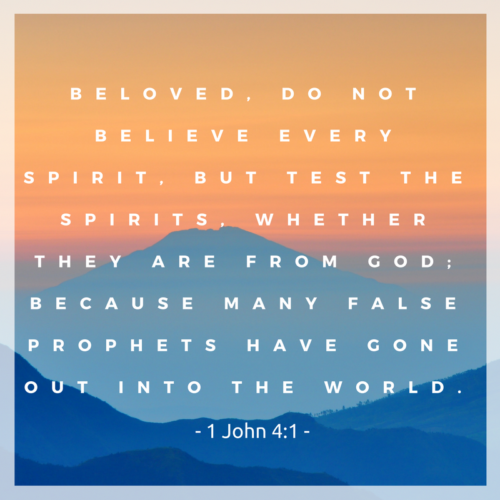 But there were also false prophets among the people, even as there will be false teachers among you, who will secretly bring in destructive heresies, even denying the Lord who bought them, and bring on themselves swift destruction. And many will follow their destructive ways, because of whom the way of truth will be blasphemed. By covetousness they will exploit you with deceptive words; for a long time their judgment has not been idle, and their destruction does not slumber. 2 Peter 2:1-3
There are all sorts of false teachers in the world today. There have been around since the days of the early church. I'm going to resist the urge to call-out the more "famous" ones of our generation, because I am sure there are far more than I am aware of and far more than I could list. I will say this though, in hopes that it will help you identify them for yourself: they walk in the lusts of the flesh. They despise authority. They are presumptuous and self-willed. And even though they are not afraid to speak evil of evil beings (Satan and demons) and stand against them, they do so out of selfish pride and arrogance (2 Peter 2:10).
The saddest thing about these false teachers, however, is that they deny the Gospel (in full or in part, either by adding to it or taking away from it) and many people will fall victim to their lies. So how do we guard our hearts from these people who are bound for destruction? How do we tell the difference from words that sound pretty and words that are true? By being in God's Word for ourselves. By learning for ourselves, through the power of the Holy Spirit, what the Gospel is in it's purest form.
As children of God we have the Holy Spirit living inside us. And because of His presence we have the ability to understand God's holy word. Many people wrongly believe that they can't possibly study Scripture on their own, that they need a teacher or preacher to help them to understand it. Yes, we do need good, God-fearing, Bible-believing shepherds in our lives. We need church leaders who are willing to preach the Word to us to convince, rebuke, and exhort us with all longsuffering (2 Timothy 4:2). However, they are not the only point of access we have to God's word.
But the Helper, the Holy Spirit, whom the Father will send in my name, he will teach you all things and bring to your remembrance all that I have said to you. John 14:26

When the Spirit of truth comes, he will guide you into all the truth, for he will not speak on his own authority, but whatever he hears he will speak, and he will declare to you the things that are to come. John 16:13
Being in God's word for ourselves and relying on the Holy Spirit for enlightenment will allow us to discern what is right from what is wrong, truth from lies, and the genuine Gospel from the many, many false gospels that are being proclaimed today. We are told in 1 John 4:1 "do not believe every spirit, but test the spirits to see whether they are from God…" Why? Because many of the ideas and notions that we hear from others (and even ones we come up with on our own) don't line up with what Scripture says about God, His Son, and the amazing grace He lavishes on those who come to Him by faith. And we do not want to be believing lies about our Loving Father, do we?
Friends, my prayer for each of us is this: that the God of our Lord Jesus Christ, the Father of glory, give to us the spirit of wisdom and revelation in the knowledge of Him. I pray that the eyes of our understanding would be enlightened, so that we may know what is the hope of His calling, what are the riches of the glory of His inheritance in the saints, and that we may know what is the exceeding greatness of His power toward us who believe (Ephesians 4:17-19, paraphrased).
---
If the idea of studying the Bible on you own is a new concept to you or is a little intimidating, may I suggest this resource by John MacArthur. It is a study of the Book of Ephesians, which contains the foundations of Christianity. I believe that studying Ephesians in-depth will help all believers to understand their union in Christ, the unity of the church in Christ, and our responsibility to be useful in Christ.
[amazon_image id="0718035100″ link="true" target="_blank" size="medium" ]Ephesians: Our Immeasurable Blessings in Christ (MacArthur Bible Studies)[/amazon_image]