A college junior sits in a coffee shop in Myrtle Beach. She and a dear friend pull out their journals and spent some time listing. They each pray, asking God to open their eyes to what is most important. They write out characteristics, filled with a great hope for what is to come and a belief that such a man exists.
Then they share, feeling a little silly opening up their dreams to one another. But as they do, they declare their faith in a God who sees. A God who knows the longings of their hearts. A God who has incredible plans for each of them.
Reality hits.
One of those hope-filled girls was me. In the years to come, I found it hard to cling to the faithfulness of God.
It was difficult to wait when I was surrounded by couples, engagement rings, and I Dos. It was compounded by the fact that I hadn't had a date in years.
There were days I wondered if there was something wrong with me. Maybe if I were more like her, someone would take notice? What can I change to be more desirable?
More years passed, and nothing.
Then one day, something happened—I fell in love with my best guy-friend.
And I was pissed.
Seriously.
Enter awkwardness.
You see, I had found this friend, this boy, who I was comfortable with. There were no pretenses, no games (minus a prank war or two.) We just got each other, and could talk and goof off for hours.
The coolest thing about it all? We didn't like each other. 
It made the friendship so easy! There was no worrying about what he was thinking. I knew what he was thinking…he was pursuing another woman. And my heart was set an another guy.
Those prospects eventually fizzled for both of us, and months later I literally woke up and found myself liking this boy. I was frustrated because suddenly this great, simple friendship was not so simple.
I struggled with what to do about it. Should I tell him? Should I act differently, to show him my feelings? What if he never sees that my heart toward him is different?
Before I had time to make a game-plan he said five words that I thought would kill me. "So, I'm thinking of pursuing Sharon."
The wait.
So, I sat on my feelings. I told no one for a good month, when I finally fessed up to my best friend. (She knew already, of course.)
I had struggled since my high school days with the sin of manipulating situations, of trying to be someone I wasn't, of taking matters in my own hands. The sin of not trusting in God. I had learned my lesson, and I was determined to—this time—truly trust God with this situation.
This was a man of God. He walked in prayerful confidence toward God's leading. I had seen this man pursue other women.
I needed to trust that if this was God's will, my heavenly Father would lead this man to me. And, if He chose not to there was a very good reason for it.
God did lead that man to pursue me. It took a couple of months, but in His perfect way and timing, He did.
God's faithful timing.
We dated for about four months, were engaged for seven, and in less than a year before we had that "define the relationship" talk I had become Mrs. Chris Orr.
As I look back on the list I scribbled down one hope-filled day in Myrtle Beach, some thirteen years ago, I can see that He was faithful, every step of the way.
Chris Orr, my best friend, husband, and the father of my three beautiful children, has every one of those characteristics I had trusted God for.
He is all I ever wanted, and everything I never knew I needed.
I'm so glad I waited.
I waited for my faithful God to lead this man to me.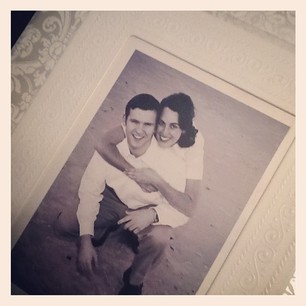 What is your story? Where have you seen God's faithfulness bring you exactly what you needed? I hope you'll share a story or two with us!