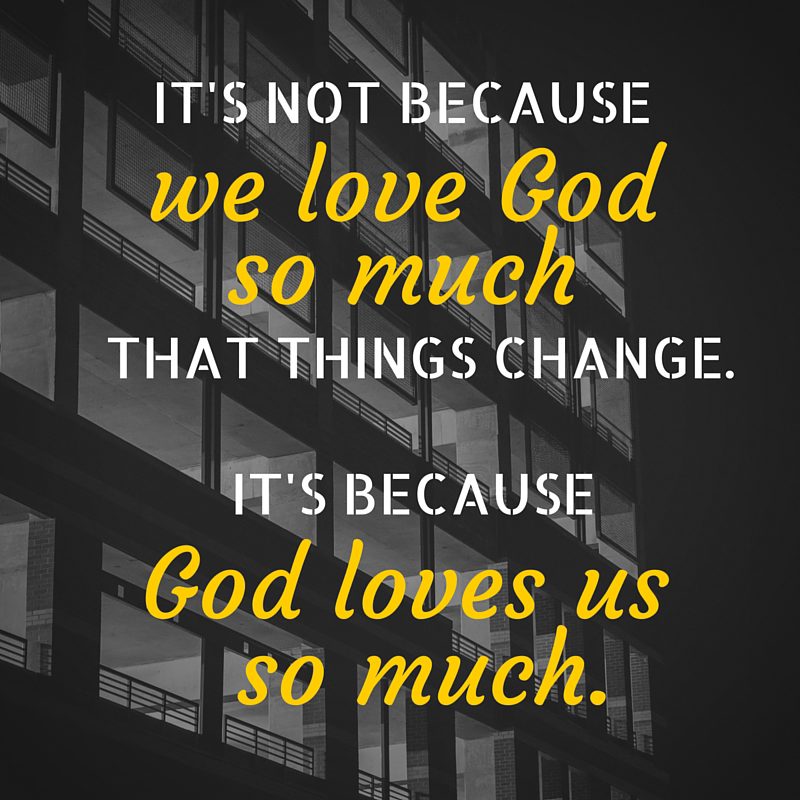 Beloved, let us love one another, for love is from God, and whoever loves has been born of God and knows God.
1 John 4:7
My love is being tested.
On our Wednesday afternoon rotations, we knock on a door in the public-housing complex, announce we have a meal, and chat in the hallway for a few minutes.
But one apartment is particularly tough. Because, well, it is particularly foul. #521 (not the real number) belongs to Darryl (not his real name).
He calls us in. We set the dinner on the counter. Roaches scatter. Smells overwhelm.
And Darryl just sits in the corner. Every week, same spot. He mumbles thanks and that's it.
So each week, I dread the entry, hold my breath, and pray for grace.
Anyone who does not love does not know God, because God is love.
1 John 4:8
I have a hard time loving Darryl. [Read more about Darryl here.]
But if I can't love the least of these, can I say I love God?
It doesn't start with us, I know that. We don't initiate love. God initiates love. Through Jesus. Every time. Every day. For every person.
In this the love of God was made manifest among us, that God sent his only Son into the world, so that we might live through him.

In this is love, not that we have loved God but that he loved us and sent his Son to be the propitiation for our sins.
1 John 4:9-10
Not only does God love, God is love. I can't fully grasp it.
But instead of knocking it around in my mind, going nowhere, I have to knock on a door and step inside.
The past few months I set new goals:
Knock on #521
Give a genuine smile
Engage in conversation with Darryl
I don't need to just talk about love, to study love, to pray about love . . . I need to do love.
Beloved, if God so loved us, we also ought to love one another.
1 John 4:11
If God abides in us, if Love abides in us, anything is possible, right?
Week after week, Darryl and I slowly engage. I ask a question; he gives a short answer.
Then he talks a little more. And then he shares about his past. And now he's laughing and story-telling and making our visits enjoyable.
Last Wednesday, not only do I notice how much he talks now—would he talk an hour if we could stay?—but I also notice something else new.
No roaches. Less clutter. And the odor is gone.
I haven't seen God in person (not yet anyway). But I know I've seen God in a person. I see Him on Wednesday afternoons in #521. He meets me there when I knock on the door. And we engage in conversation.
No one has ever seen God; if we love one another, God abides in us and his love is perfected in us.
1 John 4:12
It's not because we love God so much that things change.
It's because God loves us so much.
Despite our filth, He cleans us up.
In our shallowness, He digs deeper.
Out of our fears, He creates friendships.
If God can love us at our worst, we can pursue love for each other with our best. Because in those moments when we do, "God dwells deeply within us, and his love becomes complete in us—perfect love!" (1 John 4:12 Msg)
TO DO THIS WEEK:
PRAY
Prepare your heart before you read. Ask God to speak life through His words, to give you fresh insights, to tear down any walls.
READ TWICE
First, receive God's love for you as you read through 1 John 4:7-12. Then, read it again, listening for a specific person or situation you can pour that love back into.
PLAN
Brainstorm practical ways you can love this person. Make a phone call? Send an encouraging email? Invite to dinner? Take a small gift? Do an act of service? Just smile and say hello? No act of love is too small.
ACT
Do it. Go make God's love manifest in your world.
Is there a difficult person you're called to love in your life?
Have you made progress?
What more can you do?
Please share in the comments.