My Heavenly Father is not only just, but kind.
He is El Shaddai, meaning "God Almighty", who possesses the power to adequately nourish, supply and satisfy. He is the ultimate nurturing Parent. 
He is a Father who sees and cares.  He saw Hagar in the desert as she abandoned her dying son under a tree.  He provided a way out.
"God heard the boy crying, and the angel of God called to Hagar from heaven and said to her, "What is the matter, Hagar? Do not be afraid; God has heard the boy crying as he lies there.  Lift the boy up and take him by the hand, for I will make him into a great nation.  Then God opened her eyes and she saw a well of water…God was with the boy as he grew up." (Genesis 21:17,18, 20a)
The Greek word for kindness is chrestotes, which means "tender concern for others. It is the genuine desire of a believer to treat others gently, just as the Lord treats him. It is the grace which pervades the whole nature, mellowing all which would be harsh and austere." (The MacArthur NT Commentary Galatians).
Every week of the "Abiding Fruit Bible Study" I found myself specifically needing the fruit of the Spirit we are studying.  This past week was no exception.
Last Thursday my 2-year-old was sick. Fever and weakness removed his independent spirit and he melted into my arms. He longed for my comfort.  In his pathetic state it was natural for me to be tender & nurturing.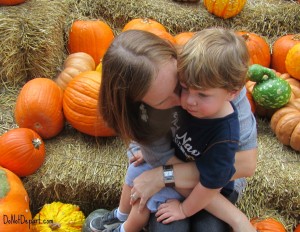 While I was preoccupied with my sick son, my 4-year-old son was desperate for attention. He acted out at every chance he had; disobedience, aggression towards his brothers, destroying everything in his path. It was difficult for me to want to show him grace.  My innate reaction was harshness & frustration.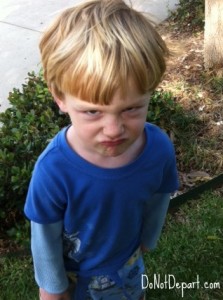 As parents we love our children. God made us, in His image, to nurture and care for them. However, we also know that there are times it is difficult to show them kindness.
I realized through reading Titus 3:3-8 that God demonstrated His kindness towards us not while we were easy to nurture, but in our sinful state ("foolish, disobedient, deceived…in malice and envy").
"But when the kindness and love of God our Savior appeared, he saved us, not because of righteous things we had done, but because of his mercy." Titus 3:4-5a
We had done nothing to endear us to Him. We deserved wrath and harshness but were granted tenderness. Undeserved kindness.
God went beyond just comforting us in our sin.  He sacrificed His own Son to save us from our sin.  Then he poured His kindness generously. He gave us full access to Him through the Holy Spirit, made us His own sons and daughters and gave us the hope of eternal life with Him!
This generous kindness is available to us through His Spirit. By abiding in the Spirit we can have the disposition of kindness.
It doesn't stop there.  Love, joy, peace, patience, kindness…all proceed goodness. All the fruit that we have learned to this point are necessary for us to do good works for His glory.
We will see this week that goodness is kindness in action.
"Without kindness, goodness becomes harsh and self-righteous. Without goodness, kindness becomes indulgent tolerance. Only the Holy Spirit can provide balance…" -Beth Moore
May you be nurtured and loved by your Heavenly, Almighty, Father.  May you abide in His Spirit to take on the disposition of kindness, to those who are deserving and undeserving.  This week may you learn how the Spirit allows your kindness to take action in your goodness.