All this month, we've been talking here at Do Not Depart about purity for today's Christian woman.
Because as much as we'd like to believe purity isn't an issue for Christian women today…that it's only those who don't follow Jesus who struggle with impurity, you and I both know that's not the case. I've had several Christian friends admit to affairs. I've heard-over and over again-about Christian men and women struggling with pornography, lust, and inappropriate relationships. You don't have to search too hard online to find examples of leaders in the church giving in to sexual temptations.
The stronghold of pornography is growing rapidly among women. And now, with graphic sexual books and movies like 50 Shades of Grey becoming popular even among believers, this is a real issue we need to think about. No one is immune to sexual temptation. NO ONE. Any of us, if caught in the wrong place at the wrong time with the wrong state of mind, could slip up.
God cares about your sexual purity. He cares A LOT. 
I know that because of the  huge number of Bible verses about purity. (If fact, as I began preparing this post, I realized there was no way I could possibly list every single verse! Instead, I decided to stick primarily with the verses that addressed physical purity.)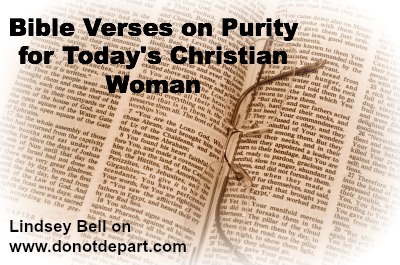 Bible Verses on Purity for Today's Christian Woman:
Exodus 20:14: "You shall not commit adultery."
Proverbs 6:32: "He who commits adultery lacks sense; he who does it destroys himself."
Matthew 5:28: ""But I say to you that everyone who looks at a woman with lustful intent has already committed adultery with her in his heart."
Romans 6:12-13: "Let not sin therefore reign in your mortal body, to make you obey its passions. Do not present your members to sin as instruments for unrighteousness, but present yourselves to God as those who have been brought from death to life, and your members to God as instruments for righteousness."
1 Corinthians 6:9-10, 13: "Or do you not know that the unrighteous will not inherit the kingdom of God? Do not be deceived: neither the sexually immoral, nor idolaters, nor adulterers, nor men who practice homosexuality, nor thieves, nor the greedy, nor drunkards, nor revilers, nor swindlers will inherit the kingdom of God….The body is not meant for sexual immorality, but for the Lord, and the Lord for the body."
1 Corinthians 6:15-16: "Do you not know that your bodies are members of Christ? Shall I then take the members of Christ and make them members of a prostitute? Never! Or do you not know that he who is joined to a prostitute becomes one body with her? For, as it is written, 'The two will become one flesh.'"
1 Corinthians 6:18: "Flee from sexual immorality. Every other sin a person commits is outside the body, but the sexually immoral person sins against his own body."
Galatians 5:19-21: "Now the works of the flesh are evident: sexual immorality, impurity, sensuality, idolatry, sorcery, enmity, strife, jealousy, fits of anger, rivalries, dissensions, divisions, envy, drunkenness, orgies, and things like these. I warn you, as I warned you before, that those who do such things will not inherit the kingdom of God."

Ephesians 5:3: "But sexual immorality and all impurity or covetousness must not even be named among you, as is proper among saints."

Colossians 3:5: "Put to death therefore what is earthly in you: sexual immorality, impurity, passion, evil desire, and covetousness, which is idolatry."

1 Thessalonians 4:3-7: "For this is the will of God, your sanctification: that you abstain from sexual immorality; that each one of you know how to control his own body in holiness and honor,  not in the passion of lust like the Gentiles who do not know God; that no one transgress and wrong his brother in this matter, because the Lord is an avenger in all these things, as we told you beforehand and solemnly warned you.  For God has not called us for impurity, but in holiness."

Hebrews 13:4: "Let marriage be held in honor among all, and let the marriage bed be undefiled, for God will judge the sexually immoral and adulterous."
I want to share one final verse with you, because I believe it holds to key to overcoming sexual temptation:
Philippians 4:8: "Finally, brothers, whatever is true, whatever is honorable, whatever is just, whatever is pure, whatever is lovely, whatever is commendable, if there is any excellence, if there is anything worthy of praise, think about these things."
The key to overcoming sexual temptation isn't in learning to control our bodies; it's in learning to control our minds.
That's why this verse is so important. If you learn to control your mind (or better yet, learn to allow God to control your mind), you will learn how to overcome temptation.
Are there any other verses you have found helpful as you try to live a holy life? 
*Photo courtesy: Arvind Balaraman/freedigitalphotos.net