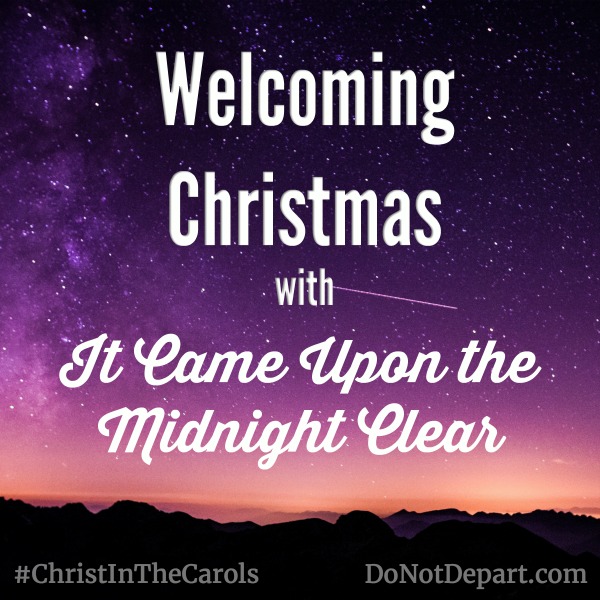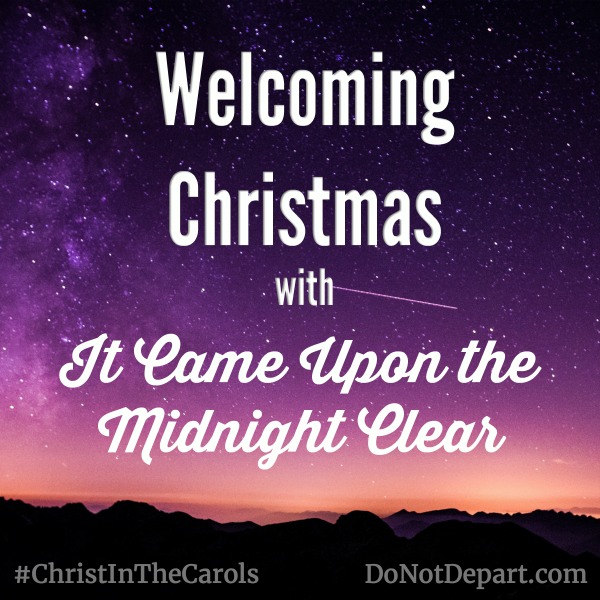 With all the hustle and bustle and marketing and pounding messages that lead up to Christmas in our current day, we so often hear people around us (and sometimes even ourselves) say, "Only __ more days, and then Christmas will be done!"
Christmas can quickly become a "thing to get through," rather than a time to cherish, love, and grow in hope.
This is one of the reasons I love the carol, "It Came Upon the Midnight Clear." Take a look at the lyrics:
It came upon the midnight clear,
That glorious song of old,
From angels bending near the earth,
To touch their harps of gold:
"Peace on the earth, goodwill to men,
From heaven's all-gracious King."
The world in solemn stillness lay,
To hear the angels sing.
Still through the cloven skies they come,
With peaceful wings unfurled,
And still their heavenly music floats
O'er all the weary world;
Above its sad and lowly plains,
They bend on hovering wing,
And ever o'er its Babel sounds
The blessed angels sing.
For lo, the days are hastening on,
By prophet bards foretold,
When with the ever circling years,
Comes round the age of gold.
When peace shall over all the earth, 
Its ancient splendors fling;
And the whole world give back the song
Which now the angels sing.
Written in 1849 by Edmund H. Sears (and music by Richard Storrs Willis), the lyrics focus on the angels' call for peace on earth that we read about in Luke 2:8-14:
"And there were shepherds living out in the fields nearby, keeping watch over their flocks at night. An angel of the Lord appeared to them, and the glory of the Lord shone around them, and they were terrified. But the angel said to them, "Do not be afraid. I bring you good news that will cause great joy for all the people. Today in the town of David a Savior has been born to you; he is the Messiah, the Lord. This will be a sign to you: You will find a baby wrapped in cloths and lying in a manger."

Suddenly a great company of the heavenly host appeared with the angel, praising God and saying,

"Glory to God in the highest heaven,
and on earth peace to those on whom his favor rests."
It's interesting to note that this song was written shortly prior to the United States entering a civil war, and the country weighed heavily with strife and dispute. They needed peace, and we need it now, as well. (See this article for lyrics to a lesser-known original stanza speaking directly to the issues of that time.)
But how can we welcome Christmas when the world hurts or is too busy to see it?
3 Ways to Welcome Christmas
–Be still to hear those angels. "The world in solemn stillness lay to hear the angels sing."
Stillness is hard to come by in our society, isn't it? When "busy" is treated as a stamp of success, to actually protect time and space for stillness can be regarded poorly. But, besides the many health benefits of stillness and rest, we need stillness to listen, really listen and observe and see and hear what God is speaking to us through His creation.
–Look for the Good News. "And still their heavenly music floats / O'er all the weary world."
We see hurt everywhere we turn right now–children torn from families, refugees unable to obtain the basic needs of life of safety and food and home, selfish action instead of cooperation. But, if we seek the light, we will find it. Listen for the wing beats of goodness. Watch our brothers and sisters acting as hands and feet in sharing love. We can choose to put good into the world in His name. We can see the joy. (Luke 2:10-11)
–React with praise and hope. "And the whole world give back the song / Which now the angels sing."
Choosing to react with hope and gratitude can be tough, and it's something that takes daily renewal and a strength greater than our own. But, let's keep praising, thanking, and hoping. One day, at the second Advent, the whole world can sing the angels' song back.
Ann Voskamp recently posted on her Instagram account: "Because if we don't always fiercely stand for Hope, regardless of the risk, cost, or ending — we steal all future Hope. … Now is the season to believe: Stories may not have gone as we hoped — but Hope is not gone. Hope comes down and Hope never stops coming. We can't afford to lose Hope – or we lose our future, our faith, our fight, our fortitude."
So let's hope. Let's sing it. Let's hear those angels and share the good news that Jesus Christ is born.
Sara Groves's version is one of my favorites of this song. While there isn't a video of it that I can find, you can listen to it on iTunes, Google Play, SoundCloud, etc.
MercyMe also has a lovely version here:
[If you can't view the video, please click here.]
Resources:
[amazon_link id="078523182X" target="_blank" ]Then Sings My Soul: Special Edition[/amazon_link] by Robert J. Morgan
[amazon_link id="087486917X" target="_blank" ]Watch for the Light: Readings for Advent and Christmas[/amazon_link]
Hawn, C. Michael. "History of Hymns: 'It Came Upon a Midnight Clear.'"
What other carols are you using for praising and singing Good News to welcome Christmas this year?