This post is also a giveaway! Please read to the end to find out how to enter.
Two years ago, "Fifty Shades of Grey" caught the attention of American women – including many Christian women. They gobbled up the erotica with a shrug and justifications like these:
It's only fantasy.
I'm not participating; I'm just reading fiction.
I need to know how to speak to the culture.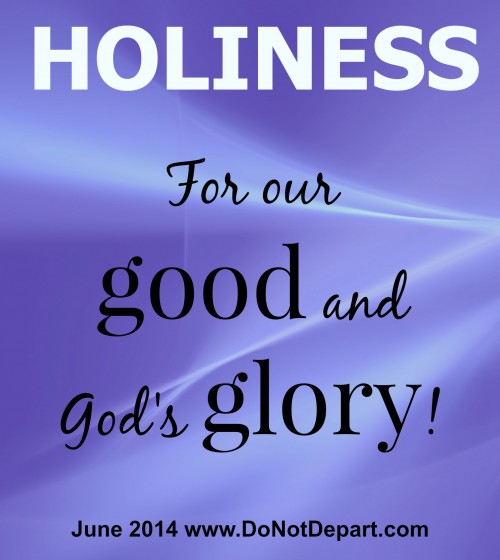 Maybe you were even one of those women – one of many Christian women who bought into the lie that it's no big deal.
It is a big deal. And this book is merely one example of believers conforming to the ways of the world instead of purposefully cooperating with the Holy Spirit to be transformed into the image of Christ (Romans 12:1-2). Rather than actively pursuing holiness, many of us in the church don't live or look much different than our non-Christian neighbors.
Does it matter? Is holiness merely a pursuit for the "super spiritual" or should holiness be a concern for every believer?
Before we turn to Scripture, let's consider the impact of "Fifty Shades of Grey." Studies prove that what we put into our minds – read, see, hear – affects our thinking and fosters a change in behavior. Reading detailed, warped, and sinful descriptions of sexual acts desensitizes us to sexual immorality and harms our marriage relationships.
God's call to holiness is for our good and His glory. He created us. He knows which attitudes, behaviors, and thoughts benefit us. He also knows which ones do not. He also wants His people to be a reflection of His character. To be a light in a dark world that leads the way to the Savior. But far too often we hang in the shadows ourselves.
This month at Do Not Depart, we will explore the biblical doctrine of holiness. Our call, what it is, what it looks like, how it benefits us, and more. Holiness really truly does matter – for your own life and for a world in darkness.
Have you given holiness much thought? Is it something you've actively pursued in your own life? Why or why not?
Enter to Win!!
This post is a giveaway. Comment on this post to enter to win one of three copies of Kathy's new Bible study, Embraced by Holiness: The Path to God's Daily Presence. This 6-week, in-depth study helps readers discover a deeper intimacy with God through a life of holiness. Embraced explores why believers should pursue holiness and guides readers through practical steps to pursuing a holy life. (Find out more about the study.) The contest closes at noon on Tuesday, June 10th!
UPDATE ON JUNE 11: The contest is closed. The winners are Yasmin, Brenda, and Lynn. Congratulations!!