With some things, the more you know, the more you love.
We believe this to be true about God.
So we invite you to join us here every Tuesday and Thursday in March to learn more about the Lord--and thus love the Lord more.
You already have the text we'll be drinking deeply from–Isaiah 55 in the Old Testament of your Bible. It's a chapter we've been memorizing one verse at a time since January 20.
But now we want to pause at the fountain to drink even deeper.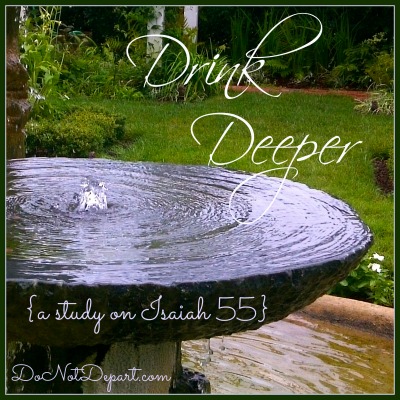 Find a couple minutes this week to read all of Isaiah 55–it's only 13 verses–to prepare yourself to learn and love the Lord more. Then return on Thursday to quench your thirst in the Lord's compassion.
Share on Twitter:
"With God, the more you know, the more you love! http://wp.me/p1Su7F-2Q4 I'm reading Isaiah 55 @DoNotDepart"
Do you already have a favorite verse in Isaiah 55? Why? Please share.