We here at Do Not Depart aim to provide tools and encouragement to abide in God's Word. We want to "meditate on [His Word] day and night, so that [we] may be careful to do according to to all that is written in it" (Joshua 1:8), and we hope to help you do the same.
We need encouragement, study tips, new perspectives, and renewal, too. And we love how many wonderful believers have a presence on the internet to help encourage all of us to abide united as one body.
So, we thought we'd share some of our favorite tools with you today!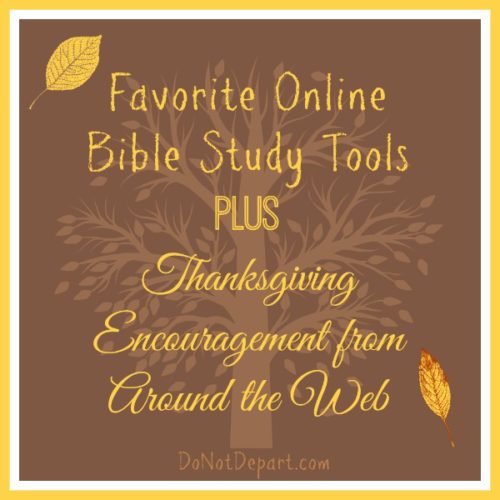 Favorite Online Bible Study Tools
There are SO many incredible tools out there. This partial list below is a sampling of some of the tools our team returns to again and again:
Great (and Grateful) Thanksgiving Posts
With Thanksgiving quickly arriving in the US, we've seen some magnificent posts focused on gratitude to our great God. Let a few of these posts inspire you to be thankful always!
What are you favorite online Bible study tools? What Thanksgiving posts have touched your heart this year? Share in the comments below!