There is no other way to describe it. I thirst. And in my thirst, I have wasted time searching this world for something to ease the dry. But my thirst goes deep, past the physical, into realms undefinable with mere words.

I entertain the deep down longing for more. More peace. More joy. More life. Then I look to a man or a dream or my closet, desperate for the need to be met. And even after I have some filling—even after the man loves me reckless or the dream takes shape in my now—I awake with the thirst. Again.

I could have been that woman at the Samaritan well, filling her thirst with things of this world. Things that leave us parched. But He graciously gave me a drink of His "living water" and I've never been the same.
Over the last few months Lara and I have together been dreaming, planning, praying and writing. The Lord has set our hearts towards putting together a book which will help you in your relationship with Him. Specifically, guidance in how to study the Bible on your own. Our hope and prayer is that through these words you will encounter God in a deeper way as you learn to experience Him through His word.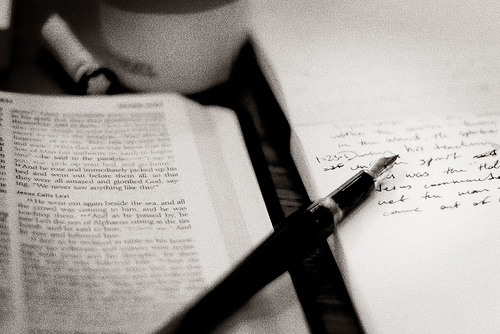 Photo Credit
This book will be available, as an e-book, early this fall. We are incredibly excited about it!
As we continue to put together this e-book, it would be helpful to us to get your input! If you have a moment, will you fill out this quick 1-minute survey? After you fill out the form, please leave us a comment to let us know that you took the survey. If you fill out this form by the end of today, you will be entered to win one of 10 free, pre-released copies of the e-book!
Thank you, friends!