We are halfway into January. How are those resolutions coming?
I must admit that only a few weeks into the new year and it already feels like "yesterday's news" to talk about resolutions. Why do we get so excited about the new year only to fizzle out so quickly?
How many of our resolutions are focused on what we wanted to accomplish? Related to how we wanted to look? Eat healthy. Exercise three times a week. Be more organized. 
Maybe our goals aren't just about us, but are focused on others. Write letters of encouragement to friends. Be more patient with my children.
Perhaps we even had spiritual resolutions. Read the Bible daily. Memorize Scripture. 
Not that any of these goals are "wrong". All of them are actually good disciplines to be integrating into our lives.
Did we make any "God resolutions"? When we thought about 2012 did we ask Him how we could make Him known? Glorify Him?
Last year I was strongly convicted of pride in my life. I recognized the root of most of the sin in my life was based on my self-centeredness (aka "pride").
In studying pride, I gained a better understanding of true humility. It's not self-abasement or a "woe is me" attitude.  It's about placing God in the center of everything in my life.
"Humility is the root of all, because it alone takes the right attitude before God, and allows Him as God to do all…It is the displacement of self by the enthronement of God. Where God is all, self is nothing." Andrew Murray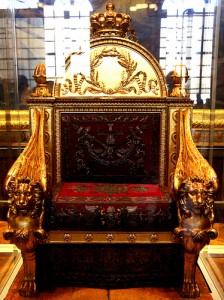 Taking myself off the throne of my life and instead placing God in His rightful place as King of Kings. That's humility.
When I think of 2012 and what goals and resolutions I want to accomplish, I can't help but view this process with a God-centered perspective. I am humbly seeking what He has for my year and how can He use me to bring Him glory.
If only a few weeks into the year you are feeling discouraged about the resolutions you have already failed to work towards, be encouraged.
At any moment of any day you can resolve to set-aside self. To place God in His rightful place on the throne.  To seek to bring Him glory in 2012.
In doing so you will have made and kept your "God Resolution"!
"Holy, holy, holy, is the Lord God Almighty, who was and is and is to come!" And whenever the living creatures give glory and honor and thanks to him who is seated on the throne, who lives forever and ever, the twenty-four elders fall down before him who is seated on the throne and worship him who lives forever and ever. They cast their crowns before the throne, saying,

"Worthy are you, our Lord and God, to receive glory and honor and power, for you created all things, and by your will they existed and were created." Revelation 4:8b-11